'Give back our dog': Florida couple believes dog stolen, pleading for her safe return
KISSIMMEE, Fla. - "Please give back our dog," the sign reads in blue spray-paint.v You won't miss it on Neptune Road.
A family in Osceola County is pleading for the safe return of their dog, who has been missing since July 23, and according to the couple, may have been taken.
"We took our eyes off of her for like 60 seconds," said Jennifer Wray. Their pup "Jazzy" was with them in the yard, when she suddenly disappeared.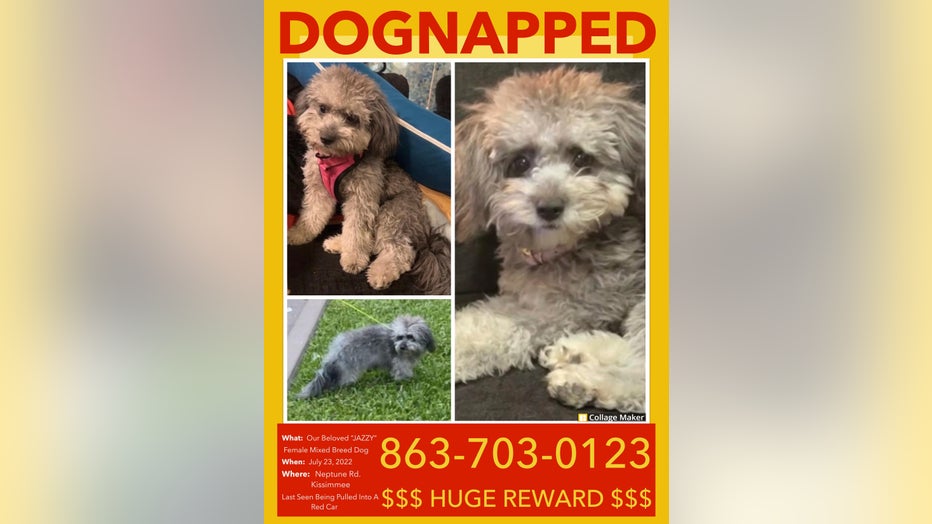 After realizing Jazzy was gone, Jennifer said she looked everywhere, but didn't immediately find her. So, they checked surveillance video and noticed a red car seem to stop along Neptune Road, near the front of their house.
They believe someone in that vehicle may have taken little Jazzy.
"I've built a life with her. She's sweet. She's precious. She's a good dog. She's very friendly. Very friendly. She doesn't turn anybody away," said Wray. "We've put out flyers in St. Cloud, Kissimmee. We've put up poster boards. Advertisements. Everything." 
So far, no sign of Jazzy. They hope someone who sees or reads their story will either have answers or if they have Jazzy, will bring her back home.
"I'm not mad. I will not be mad. I will not be angry. I'll be thankful," she said.
The owners said Jazzy did not have a collar on and was not microchipped. They've also filed a report with the Osceola County Sheriff's Office.