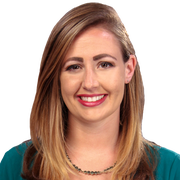 Danielle Lama is an Emmy-nominated and AP award-winning journalist. She joined the FOX 35 team in November of 2016 as a reporter.
Before coming to Orlando, Danielle worked in Louisville, Kentucky. She spent nearly three years there covering everything from snow storms to the Kentucky Derby. Danielle also reported extensively on the heroin epidemic and prescription drug abuse. Her in-depth coverage of an HIV outbreak in southern Indiana that stemmed from needle sharing led to an Emmy nomination.
Danielle has also worked in Madison, Wisconsin and Evansville, Indiana. She is a graduate of the Philip Merrill College of Journalism at the University of Maryland.
Danielle is thrilled to now call Orlando home. She's originally from Ithaca, New York but several of her family members live in Florida. She loves telling stories and would like to hear yours.
The latest from Danielle Lama
Deputies say they found 30-year-old Dominic Fabrece Bolden suffering from a gunshot wound in a car. He was taken to Florida Hospital East where he was pronounced dead. 
The Daytona Beach Fire Department responded to a fire at an assisted living facility on Wednesday.
An Orlando family is desperate to have their dog returned to them. The family says the dog wandered across the street. Video shows a woman getting out of a car, picking up the dog and leaving.
What you need to know Tuesday morning - from school, to pool and sprinkler systems.
Cities across the country are working to attract large esports events as the industry continues to grow.
Deputies said that four vehicles were struck by gunfire along I-4 on Monday morning.
Police say the 12-year-old's hand is intact but is severely injured.
Eight dogs came into the SPCA of Brevard severely matted and malnourished on New Year's Eve. Two of them needed a blood transfusion.