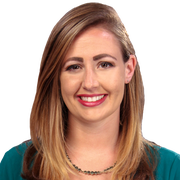 Danielle Lama is an Emmy-nominated and AP award-winning journalist. She joined the FOX 35 team in November of 2016 as a reporter.
Before coming to Orlando, Danielle worked in Louisville, Kentucky. She spent nearly three years there covering everything from snow storms to the Kentucky Derby. Danielle also reported extensively on the heroin epidemic and prescription drug abuse. Her in-depth coverage of an HIV outbreak in southern Indiana that stemmed from needle sharing led to an Emmy nomination.
Danielle has also worked in Madison, Wisconsin and Evansville, Indiana. She is a graduate of the Philip Merrill College of Journalism at the University of Maryland.
Danielle is thrilled to now call Orlando home. She's originally from Ithaca, New York but several of her family members live in Florida. She loves telling stories and would like to hear yours.
The latest from Danielle Lama
Most sunscreens could soon require a prescription from your doctor.
Authorities say a boy who was kidnapped by his mother has been returned home. The toddler was taken from an Orlando apartment early Wednesday. Police say the boy's biological mother held the boy's stepmother at gunpoint and demanded she turn over the toddler.
A Universal Orlando actor who was dressed as movie character "Gru" has been fired for making an "OK" hand gesture that has been designated a hate symbol used by white supremacists in a photo with a biracial girl.