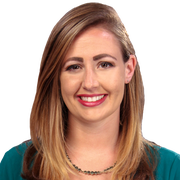 Danielle Lama is an Emmy-nominated and AP award-winning journalist. She joined the FOX 35 team in November of 2016 as a reporter.
Before coming to Orlando, Danielle worked in Louisville, Kentucky. She spent nearly three years there covering everything from snow storms to the Kentucky Derby. Danielle also reported extensively on the heroin epidemic and prescription drug abuse. Her in-depth coverage of an HIV outbreak in southern Indiana that stemmed from needle sharing led to an Emmy nomination.
Danielle has also worked in Madison, Wisconsin and Evansville, Indiana. She is a graduate of the Philip Merrill College of Journalism at the University of Maryland.
Danielle is thrilled to now call Orlando home. She's originally from Ithaca, New York but several of her family members live in Florida. She loves telling stories and would like to hear yours.
The latest from Danielle Lama
The astronauts are ready to go and so are a lot of people who are planning to travel to the Cape to witness history, with many arriving early to try and get the best spot.
As local restaurants are opening back up, some owners are having a hard time filling positions because their employees can make more money through unemployment benefits. The owners of WopHop's brewery and Appleton's Cafe say they've struggled to fill positions.
Surveillance video showed two people break through the front door of the business and then pull the puppies out of their cages and put them into bags.
TSA agents ask that you stop handing them your boarding pass and take food out of carry-on bags.
Video that allegedly shows a former petting zoo employee tossing a goat is circulating on social media.
The sheriff of Volusia County says it's not his job to enforce the governor's social distancing orders.
Campers can expect to see several changes that align with CDC recommendations.
A statewide ban on foreclosures and evictions is about to expire in Florida. The governor issued the order in early April as many were left unemployed due to the coronavirus pandemic. State lawmakers say the order is set to expire on Sunday.
The events usually bring in visitors that stay at central Florida hotels and eat at local restaurants.