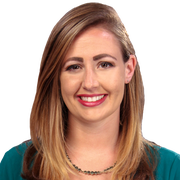 Danielle Lama is an Emmy-nominated and AP award-winning journalist. She joined the FOX 35 team in November of 2016 as a reporter.
Before coming to Orlando, Danielle worked in Louisville, Kentucky. She spent nearly three years there covering everything from snow storms to the Kentucky Derby. Danielle also reported extensively on the heroin epidemic and prescription drug abuse. Her in-depth coverage of an HIV outbreak in southern Indiana that stemmed from needle sharing led to an Emmy nomination.
Danielle has also worked in Madison, Wisconsin and Evansville, Indiana. She is a graduate of the Philip Merrill College of Journalism at the University of Maryland.
Danielle is thrilled to now call Orlando home. She's originally from Ithaca, New York but several of her family members live in Florida. She loves telling stories and would like to hear yours.
The latest from Danielle Lama
Community members have been pushing for years to have to confederate general's name removed.
The annual event was tentatively scheduled for November 13-15 after being canceled in April.
Orange County deputies are investigating after a child who was found unresponsive in an apartment died.
The district is asking families that don't need school issued devices to turn them back in.
A Seminole County Sheriff's Office helicopter was about to fly early Sunday morning when the deputy on board was alerted to suspected car burglars outside his home.
Police say an elderly man was dragged out of a gas station by his hair and beaten by another patron. Authorities released surveillance video of the incident on Friday.
We could have a coronavirus vaccine sooner than we thought but polling shows many Americans would rather wait.
WIld Florida is buying 185 acres to add onto the safari attraction.