Orlando Slingshot ride passes inspection: Will it reopen at ICON Park?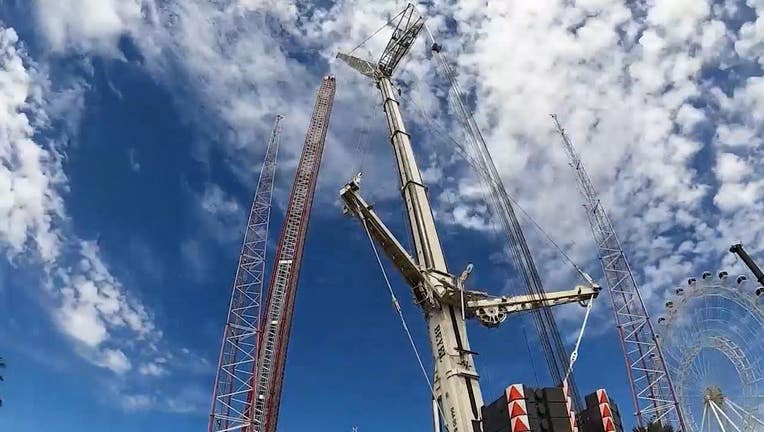 article
ORLANDO, Fla. - As crews continue to take down the Orlando FreeFall drop tower ride at ICON Park following the fall death of Tyre Sampson, its sister attraction – Orlando Slingshot – remains closed.
Are there plans for Orlando Slingshot to reopen? Will it be torn down? Here is what we know.
Slingshot Group, which owns both rides at ICON Park, suspended its operations of Orlando FreeFall and Orlando Slingshot in March 2022 following the death of Tyre Sampson, a 14-year-old boy who fell out of the restraints on Orlando FreeFall and later died. There was no incident with the Orlando Slingshot.
Eventually, Slingshot Group decided to take down the FreeFall attraction. That tear-down process began in early March 2023, nearly a year after Sampson's death, and is expected to take about two weeks.
However, Orlando Slingshot, which is located nearby, remains closed.
Through its PR firm, the owners of Slingshot Group said there are no current plans to take down the Orlando Slingshot ride, and no timetable for when the ride could reopen, if indeed there are plans to open it again.
The Florida Department of Agriculture and Consumer Services, which is in charge of inspecting amusement rides in Florida, did inspect Orlando Slingshot on Feb. 21, 2023 as required under state law. According to that report, the slingshot ride passed its inspection, which would be required for the ride to reopen.
No other information about the ride aside from contact information and location information was included in the report.
 Ahead of its opening in December 2021, Orlando Slingshot was described as the world's tallest slingshot. A previous FOX 35 report said the ride would launch riders out of a volcano some 300 feet into the air – at speeds up to 100mph.