Orange County deputy Bruce Stolk indicted in 2020 shooting of teen
ORANGE COUNTY, Fla. - An Orange County Grand Jury handed up an indictment against a deputy with the Orange County Sheriff's Office linked to a shooting in 2020.
The indictment charged Orange County deputy Bruce Stolk with aggravated battery with a deadly weapon in the December 2020 shooting of Edenilson Urbina, then 18, who was initially pulled over because of a suspected bad license plate.
At some point, deputy Stolk was chasing Urbina and then allegedly shot him from behind, striking his leg. The State's Attorney believes Stolk knowingly shot the teenager in the back.
An attorney Urbina said the teenager was unarmed and that the deputy knew that at the time.
"I believe in our justice system and it's important we let this case run its course. Our deputies have one of the most difficult and complex jobs in the world. They must make split-second decisions and act in the moment to protect themselves and others," Orange County Sheriff John Minda said Friday in a statement.
In body-cam video previously released from that night, deputy Stolk is heard shouting, "stop running! Stock running!" while running after the teenager. The chase eventually led to a dark area behind an apartment complex off Kingsgate Drive.
"Get on the ground! Get on the ground! Show your hands," said Stolk.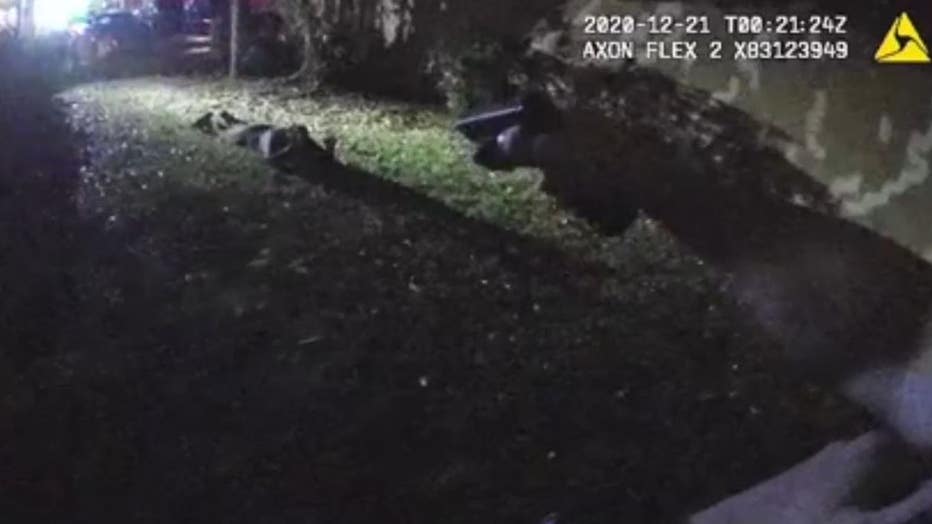 Urbina is seen laying prone on the ground. 
At the time, Sheriff Mina said there was a fight that forced his deputy to fire his fun.
"There was some kind of threat. We're still trying to determine that. The subject was attempting to harm him in some way by reaching for a weapon but we still don't know all the facts," he said at the time.
"Like we said, it's extremely dark out there. Some of the body cam footage that has already been reviewed is extremely dark as well."
Stolk joined the Orange County Sheriff's Office in 2017. He was placed on administrative duty during the investigation, but returned to active duty following his interview with the Florida Department of Law Enforcement.
Now that he has been indicted, that is overturned.
If convicted, he faces a maximum sentence of 15 years in prison.
Urbina's lawyer said his client has been fully cooperating with the State Attorney's case and they are thankful for their thorough investigation.
Orlando Weather: Storm alerts, live interactive radar, forecast, and more
Click here for the latest Central Florida news, Florida stories, and local headlines.