'No bear hunt': Protestors hang banner over I-4 against having another bear hunt
ORLANDO, Fla. - Protestors took the streets in Central Florida on Tuesday to say that they do not want any bear hunts in Florida.
While on the way to the Panhandle to discuss the issue, the protestors stopped along Interstate 4 in Orlando.  Members of the Animal Rights Foundation of Florida hung up a large banner over the freeway, saying "TELL FWC NO BEAR HUNT!"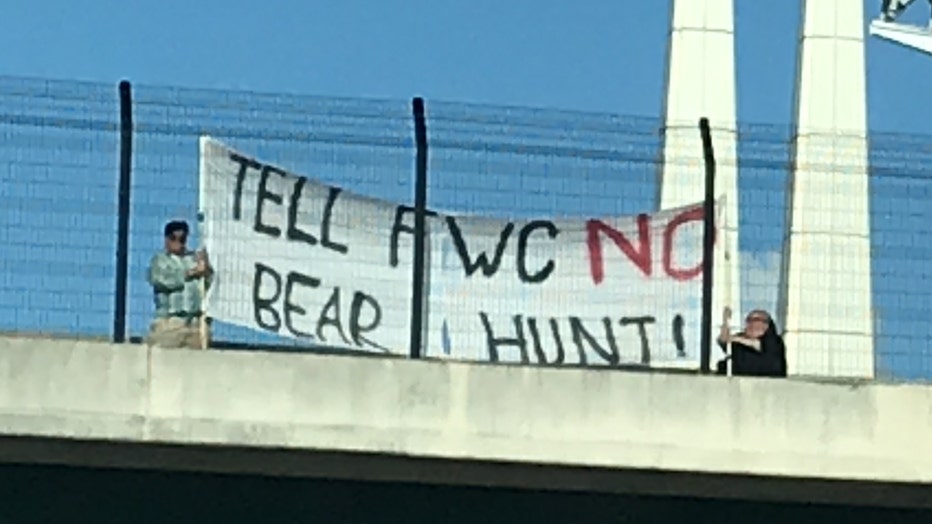 "In 2015, that was the first time bears had been hunted in 20 years and it was an absolute fiasco," said Bryan Wilson, chair of the Central Florida branch of the group.
Wilson said ARFF and several other animal rights groups will attend Florida Fish and Wildlife Conservation Commission's upcoming meeting in Panama City Beach, where the group will discuss and take public input on the state's new Bear Management Plan for the next 10 years.
According to FWC, the plan aims to ensure the long-term survival of Florida's bear population.
However, there's concern about that population rapidly growing.
In order to handle that growth, the plan acknowledges that one option could be hunting as a means of population control, though an FWC spokesman says the passing of the plan would not be the authorization of a hunt. That would be up to commissioners to decide.
The last time Florida authorized a bear hunt was in 2015 when a week-long hunt was cut down to only about two days after too many bears killed.
In the years since, commissioners have voted down a return to the hunt, in part, due to the negative response from the public.
Wilson hopes any future attempts will also be shut down by the public.