Nike releases new Kobe Bryant sneakers on what would have been his 45th birthday
It's official: If you are hoping to snag yourself a pair of new Kobe sneakers – today is the day!
Nike is set to release the Kobe 8 Protro "Halo" on Wednesday, 8/23, on what would have been Kobe Bryant's 45th birthday. It is the first Nike sneaker in the Lakers superstar's line since his passing in January 2020, when he was killed alongside eight others in a helicopter crash in Calabasas.
"Partnering with Nike Basketball, Vanessa Bryant imagined and created the Halo shoe concept and launch as a way to honor Kobe's birthday each year. The Halo concept will be an annual release that will honor and celebrate this special date. Designers replaced the Lunarlon midsole with Nike React foam, allowing for better comfort and responsiveness and creating a more durable design overall. Also updated is the herringbone traction pattern and the embroidery of the Swoosh on the upper and the Mamba logo on the tongue," Nike wrote on its website.
The new Nike Kobe 8 Protro Halo releases August 23 and will be available on the Nike SNKRS app with the draw opening at 10 a.m. ET on Wednesday. The shoes will also be available in select Nike retail stores. They are priced at $180 per pair.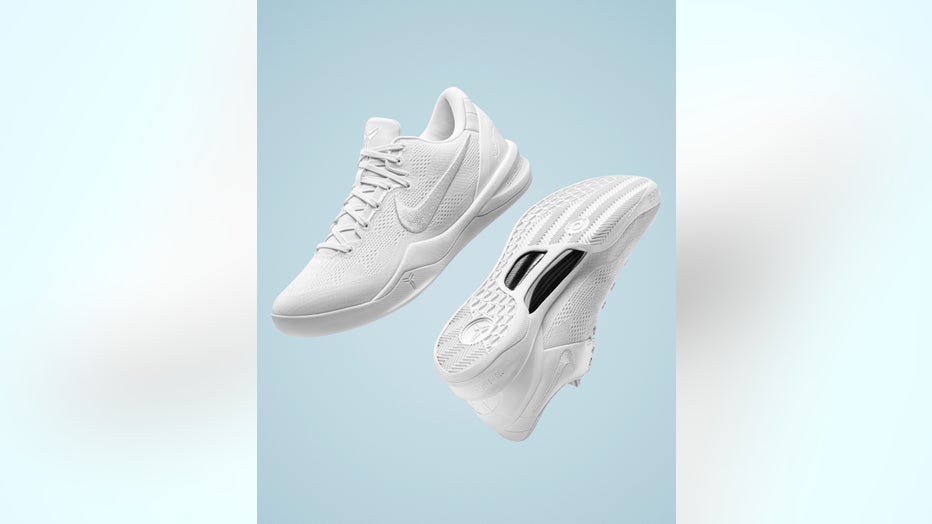 The Nike Kobe Protro "Halo" was designed by Kobe's widow, Vanessa. (Credit: Nike)
"Like the existing Protros, the Kobe 8 Protro has the same iconic look but features new updates in design and performance innovation. One of the more noticeable design updates include the embroidered Swoosh on the upper, paired with an embroidered Mamba logo on the tongue. In a key innovation update, designers replaced the Lunarlon midsole with Nike React foam, for comfort and responsiveness and to help create a durable design overall. The team also updated the herringbone traction pattern for strong grip and performance," Nike said in a press release.
RELATED: Santa Monica Pier to honor Kobe Bryant on Thursday, Aug. 24
The Nike Kobe 8 first launched in 2012. The shoe was featured in the Prelude Pack in 2014 and Fade To Black Collection in 2016 prior to this year's Protro. At the time of its release, the silhouette was the lightest in the Kobe line, following Kobe's desire for a shoe that was like an extension of his foot. The graphics on the upper played further into Kobe's "Black Mamba" identity.