Marion County triple homicide: 3 boys to be charged as adults in alleged murders of three teens
MARION COUNTY, Fla. - Three boys will be charged as adults in the murders of three teenagers in a rural community in Marion County, the Florida State Attorney's Office said Tuesday.
A grand jury indicted 17-year-old Robert Robinson and 16-year-old Tahj Brewton on three counts of first-degree murder, and a 12-year-old boy was indicted on one count of first-degree murder in the deaths of three teenagers in Ocklawaha, Florida.
FOX 35 has decided not to name the 12-year-old due to his age.
All three are also facing charges of robbery with a firearm and tampering with physical evidence. They are being held in the Marion County Jail on no bond, officials said.
Over the span of three days – between May 30 and April 1, 2023 – the bodies of three teenagers – identified as Layla Silvernail, Michael Hodo Jr., and Camille Quarles – were found in separate locations in Marion County.
Marion County Sheriff Billy Woods told reporters previously that it appeared that everyone was part of an unofficial neighborhood "wannabe gang" and that at some point, the three boys turned on the three teenagers. A possible motive appeared to be robbery, he previously said.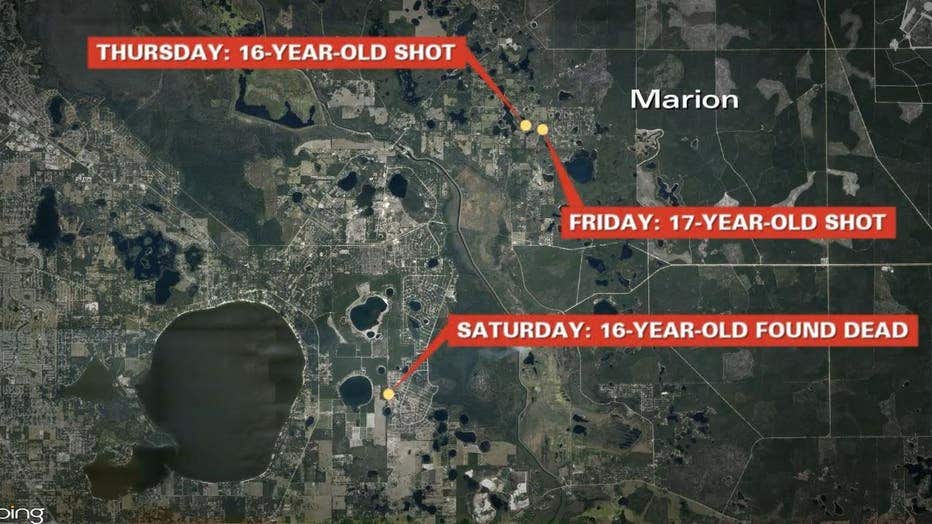 TIMELINE: MARION COUNTY TRIPLE HOMICIDE
Thursday, March 30: Deputies responded to a road near Forest Lakes Park in Ocklawaha, Florida, and found a 16-year-old girl shot on the side of the road. She was taken to the hospital where she later died. She was identified as Layla Silvernail.
Friday, March 31: Deputies responded to SE 94th Street and SE 188th Court and found a 17-year-old boy with gunshot wounds laying on the side of the road. He was pronounced dead at the scene. The State Attorney's Officer later identified him as Michael Hodo Jr.
Saturday, April 1: Deputies responded to the area of Malauka Loop and Malauka Loop Trace and found a car partially submerged in a lake and a 16-year-old girl with gunshot wounds in the trunk of the car. The girl was pronounced dead. The State Attorney's Office later identified her as Camille Quarles.
Officials said Silvernail had been shot in the head and was found near a dumpster. Hodo Jr. was shot in the back of the head and found alongside the road. Quarles had two gunshot wounds and was found dead in a car trunk that was partially submerged in a lake.
As the investigation unfolded, Sheriff Woods repeatedly attempted to dispel rumors of a serial killer on the loose or of a possible fourth victim. "That is far from the truth," he said in one video on Facebook.