MAP: Majority of Central Florida is in moderate or severe drought
Brevard County was added to the list of regional Burn Bans across Central Florida on Thursday, joining Osceola, Orange, and Seminole Counties, as the US Drought Monitor released their once-weekly drought analysis and expanded the pockets of severe drought to include most of our area.
Last week, only a few pockets were experiencing severe drought with most areas in the lesser 'moderate drought' category. Things are getting worse and there's little hope of improving conditions anytime soon.
In December 2022, Florida received 1.53 inches less rain than normal for the month. In January 2023, there was 1.47 inches less rain than normal, and in February 2023, there was 1.49 inches less rain than normal. In March 2023, there was 2.49 inches less rain than normal for the month. We're down about 7" in the last third of a year and will need at least that much to recover any time soon.
The dry conditions are having an impact on residents, as lawns and gardens not benefiting from irrigation systems are drying out, and brush fires in the wildlands becoming more common. An example: The nearly 2000 acres Double Gate fire in the Tiger Bay State Forest of Volusia County broke out earlier this week and continues to smolder. Any future lightning storms or accidental (or intentional) ignition sources could lead to more out-of-control fires.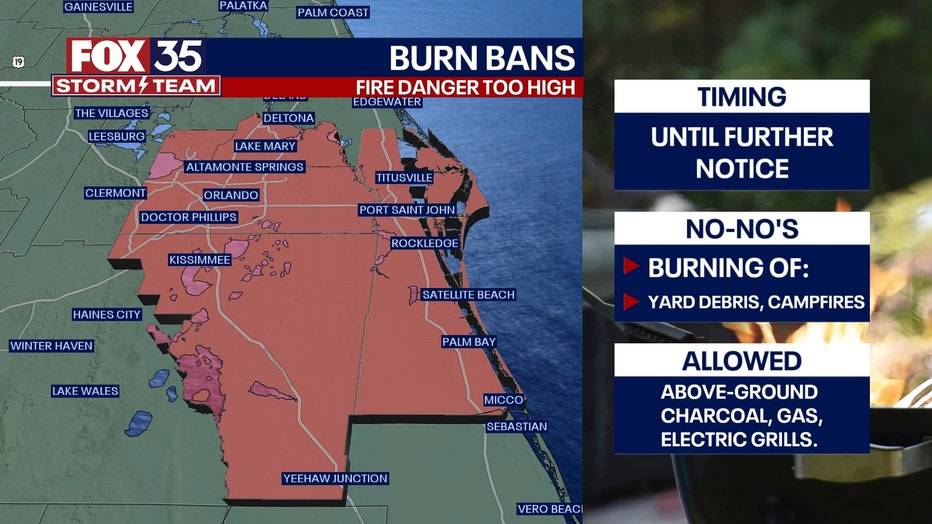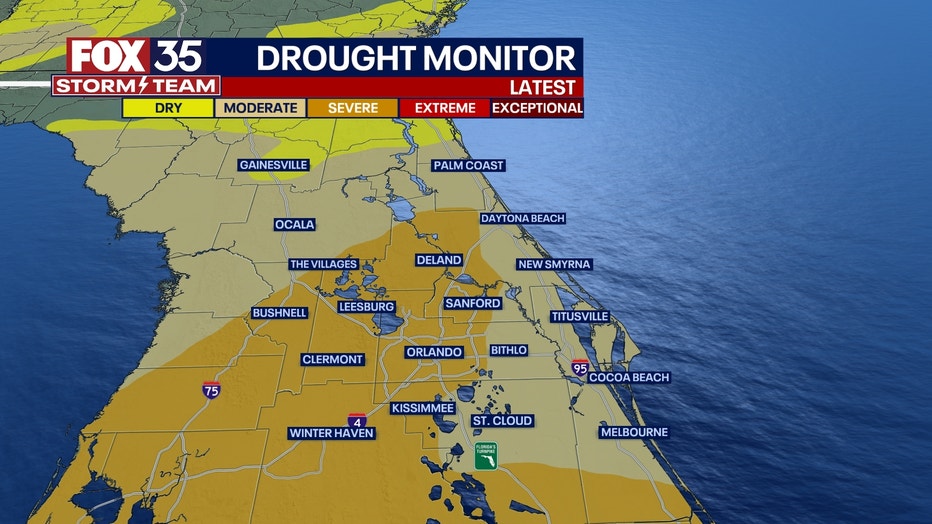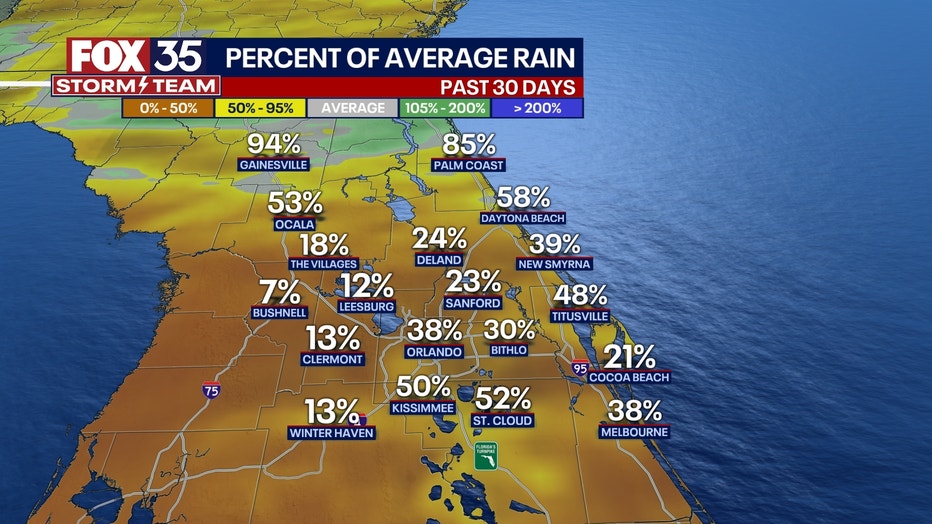 With historic droughts as a point of reference, this latest drought could have far-reaching consequences beyond lawns and gardens and extend impacts to the productivity of local farms and even impact infrastructure due to the potential formation of sinkholes.
All historic droughts in the last century have been accompanied by sometimes hundreds of sinkholes statewide developing as a result of the fragile limestone foundation of our ground developing cavities largely due to water being pulled from the shallow aquifer for irrigation. In 2017 the drought, Florida experienced over 400 sinkholes after severe drought in the early summer was followed by copious amounts of rain from Hurricane Irma that September creating an unstable ground.

Other notable dry periods in the last 40 years include the 2012, 1998-2002, and 1981 droughts which brought on historic sinkhole events. The multi-year drought at the turn of the millennia nearly emptied Lake Jackson in the Panhandle, as a sinkhole opened up on the lakebed floor, draining it. During that year, several hundred sinkholes formed around the state. 
Back in the drought of 1981 one sinkhole was so big, it resulted in a main drag of Winter Park being enveloped as well as the adjacent neighborhoods near West Comstock and Fairbanks Avenue. It later filled in with water when the rains returned and is now known as, "Lake Rose", named after one beloved resident who lost her home to the event.
While the current drought is bad, it's not as extreme as other droughts in history. As of Thursday, Florida sits in "D2, Severe Drought: in a ranking from, "D0 (incipient) to D4 (exception)", in the 1998-2002 drought, the most intense week was reported on February 27, 2001, where the worst classification, D4 (exceptional drought) affected nearly 40% of Florida land due to the drought conditions.
The intensity of drought is a way to classify, but another way is its duration and since the year 2000, the longest duration drought went on for 2 years and 4 months, beginning on April 11, 2006, and ending on August 19, 2008. Things aren't great now, but they could be much worse. There's very little rain in the near-term forecast, but a chance next weekend our luck with change.
Drought can be caused by multiple factors, but this year, it may be attributable to the long-term presence of La Nina, which leads to a more northern storm track of the jet stream, allowing high pressure to keep it dry and allow warmer-than-normal weather, further drying out the region via evaporation. 
The La Nina is now over, and we're entering a neutral period, but it's expected El Nino will form by fall, helping to enhance our rainfall potential and put a curb in this drought.