Man who allegedly entered 87-year-old woman's bedroom as she slept arrested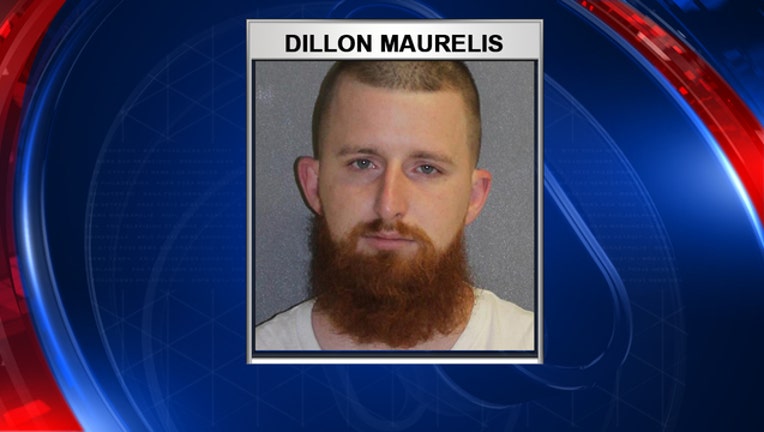 article
VOLUSIA COUNTY, Fla. (WOFL FOX 35) - A burglary suspect, who allegedly entered the bedroom of a sleeping 87-year-old DeLeon Springs woman early Monday morning, has been arrested.  The Volusia County Sheriff's Office says a detective recognized the suspect on video surveillance footage and tracked him down.
Dillon Maurelis, 27, of DeLeon Springs, was arrested Monday afternoon, hours after the early-morning burglary of a home on Audubon Avenue, where the victim said she saw someone in her bedroom around 12:40 a.m.   She told deputies she woke up to use the restroom and saw the suspect flee.  She soon found several items missing.
That same night, deputies say the woman's son, who lives around the corner, caught someone on his surveillance camera trying to break into his car.  The Sheriff's Office says the man on the video matched the description of the suspect in his mother's home.  
"When we looked at this video, the detective said 'Bingo! I know him!'" explained Sheriff's Office spokesman Andrew Gant.  "Found him and saw that he had the same shoes that he had on in the video, searched him, found a bunch of cash in his wallet and a business card for a gold shop." 
Detectives went to the address on the business card for the gold shop and discovered Maurelis had just been there, trying to get some appraisals on items.  
"Which happened to be the same items that were stolen from our 87-year-old victim," Gant added. 
Maurelis is described by authorities as a known burglar with a lengthy criminal history, who was out of jail on bond, related to a previous burglary charge.  Investigators say a search of Maurelis' home, turned up items from at least four other recent car and home break-ins around DeLeon Springs. 
Maurelis is charged with burglary of an occupied dwelling, grand theft over $20,000 and dealing in stolen property as well as burglary of a conveyance. He was booked into the Volusia County Branch Jail on a $115,000 bond.