London fire death toll at 17; 'miracle' if anymore survivors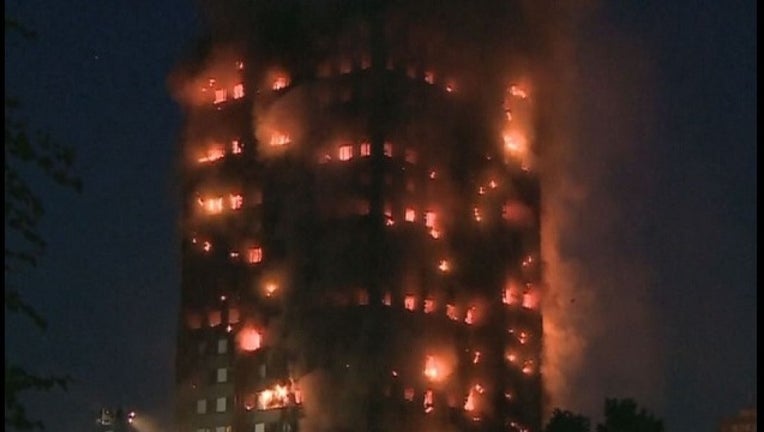 article
LONDON (AP) - London firefighters traumatized by the devastation they witnessed in a high-rise apartment blaze that killed at least 17 people worked Thursday to make the building safe so they could continue the search for more victims.
Entire families are missing, and the death toll is certain to rise after flames tore through the 120-unit Grenfell Tower in the early hours of Wednesday when most people were asleep. Fire Commissioner Dany Cotton said it would be a "miracle" if anyone else were to be found alive.
It is unsafe for firefighters to go to all parts of the 24-story tower, so the fire department is working with structural engineers to shore up the building so they can complete a "finger-tip search" of the entire structure, Cotton said.
Some residents threw a baby and other children out the window to escape the flames. There were other reports of adults jumping.
"I spoke to one of my officers who was very near when someone came out the window, and he was in tears and he is a professional fire officer," Cotton told Sky News. "We like to think of ourselves as 'roughty, toughty' and heroes - they are heroes - but they have feelings, and people were absolutely devastated by yesterday's events."
More than 200 firefighters worked through the night and parts of the building were still seen as being unsafe. Now that the smoke has cleared, the public could only gape at the huge burned-out hulk in the working class, multi-ethnic neighborhood.
The blaze in west London's North Kensington district also injured 74 others, 18 of them critically, and left an unknown number missing. Cotton said that specialist dogs would be brought into search the building.
A tenants' group had complained for years about the risk of a fire in the building. The cause of the fire is under investigation, and authorities have refused to speculate on what could have started the blaze. But the focus has turned to renovations completed last year that added decorative touches to the building.
The renovation project included installation of insulated exterior cladding, double-glazed windows and a communal heating system. Fire experts say the investigators will need to look at what materials were used in the project and who approved their use.
Up to 600 people lived in the 120 apartments at Grenfell Tower. After announcing the updated death toll of 12 on Wednesday afternoon, Cmdr. Stuart Cundy said that "we believe this number will sadly increase."
Prime Minister Theresa May promised an investigation and visited the site on Thursday. London Mayor Sadiq Khan said that many questions must be answered about safety for the scores of other apartment buildings around the British capital.
The London Fire Brigade said it received the first reports of the blaze at 12:54 a.m. and the first engines arrived within six minutes. Survivors told of frantic attempts to escape during the nighttime fire.
"The flames, I have never seen anything like it. It just reminded me of 9/11," said Muna Ali, 45. "The fire started on the upper floors. ... Oh my goodness, it spread so quickly. It had completely spread within half an hour."
More than 1 million pounds ($1.27 million) has been raised to help victims of the tragedy as volunteers and charities worked through the night to find shelter and food for people who lost their homes.
St. Clement's Notting Dale, a church near the tower, has turned into an informal center for people searching for friends and family.
Laminated signs bearing the missing persons phone number are tied to the fence next to notices from happier times advertising the Summer Fete with its barbecue, children's games and giant slide. A handwritten sign ripped from a spiral pad reads "breakfast from 0800 inside." The church is also serving lunch and dinner to survivors.
On a utility box by the church's front door, residents have taped signs looking for information about Khadija Saye, last seen on the 20th floor, and Mariem Elggwahry, last seen on the 19th floor at 2:30 am.
Community centers in London have been overwhelmed by the number of donations flooding in for those left homeless by a high-rise apartment building fire.
So much food, clothing, shoes and other items have been coming in that the centers, churches and mosques have had to start turning away new donations.
Missing people posters have been put up throughout North Kensington. Celebrity chef Jamie Oliver has offered free food for survivors at one of his nearby eateries.
Many were moved to tears Wednesday at a moment of silent contemplation outside the Notting Hill Methodist Church in west London.
"There are times when all the words we can say are not adequate and sometimes words fail us because no words can do justice to how we feel, or what we have seen or what has happened. Today is one of those days," Rev. Mike Long said.
"What we can simply do is look to all that we have seen today - which is good, which is fabulous - people getting together."
Emergency accommodation had been provided to 44 households affected by the fire.
___
Associated Press writer Frank Griffiths contributed to this report.