Plant City High School senior sets new GPA record
PLANT CITY, Fla. - Graduating senior Tina Kumar, 18, is a new record holder at Plant City High School, not in a sport, but in Grade Point Average.
"I was valedictorian of my class with an 11.0 GPA, so I was ranked number one."
Number one, or really any number, seems to come easy to Tina. She's liked numbers since she was a little girl. 
READ: Jefferson High magnet program helps fill need in maritime workforce, brings more women to field
"It was always math and science for me," she said. "I  took AP chemistry, pre-calculus, and calculus. Those are classes I genuinely enjoy taking." 
Her 11.0 GPA is the highest in the history of Plant City High School. However, she's not the first Kumar to post big numbers here.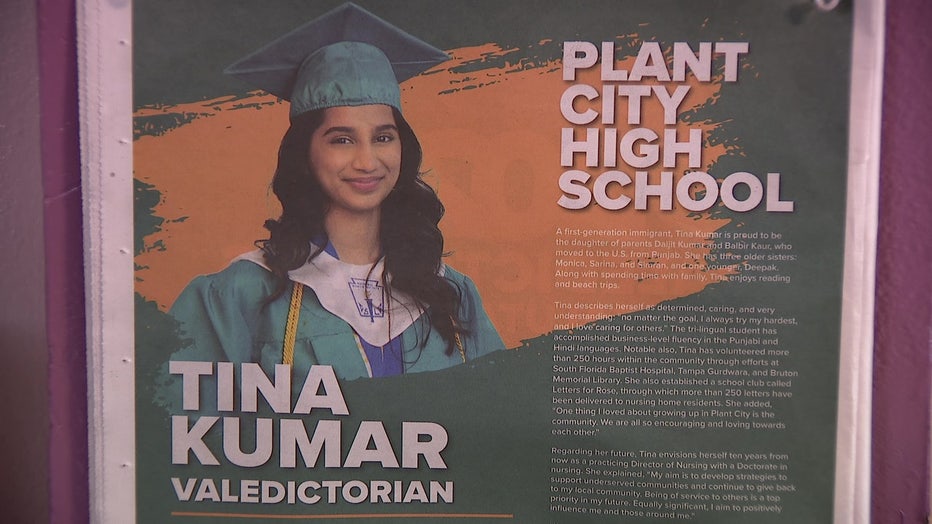 Tina recognized by her school for earning Valedictorian honors
Tina's older sisters Simran and Monica scored 9.64 and 8.03 GPA's respectively. Both were valedictorians. Another older sister, Sarina, graduated near the top of her class. 
The sisters all like math.
READ: Class of 2023: Krispy Kreme is giving graduates a dozen doughnuts for free
"Our dad was an engineer," laughed Monica Kumar. "I always tell my family, one plus one is two. There is no other option," smiles Daljit Kumar, who also graduated at the top of his class in India.
Tina's 11.0 GPA is tops, but she says her sisters helped her along the way.  
Tina Kumar and her sisters. 
"My goal was never just to beat my sisters,"  Tina Kumar explained. "It was for me to see what I could do." 
She plans to follow in her sisters' footsteps and attend USF. They all are either planning to, or already work in the healthcare field.
READ: Pinellas County school bus drivers are now among highest paid in Bay Area
 "I would like to work in healthcare administration and make it easier for people to get healthcare. I want to help people,"  Tina Kumar said. 
Tina Kumar checks out her cap and gown in the mirror.
"I'm very proud of them," Daljit Kumar shared. "I'm so happy with them."
READ: Ed Sheeran surprises students at Middleton High School with free concert tickets, guitars
Only a dad can do the math that makes them all number one.