Former Army infantryman is gifted a new home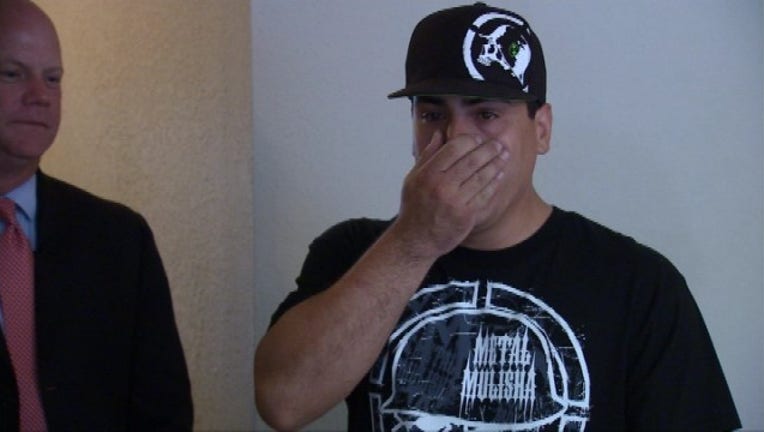 article
A housewarming party on Orlando's north side started with a motorcycle escort Thursday morning.
That was clue number one that there was something special about the Vazquez family's move into the home in the 3900 block of Tram Court. 
The Pledge of Allegiance—which was said in the driveway—and the ceremony to hand over the house keys were clues number two and three.  
Omar Vazquez is an army veteran.
The home that the he will share with his wife, Lizbeth, and their five-year-old daughter and newborn son is a gift that comes mortgage-free.  
"We thank you for your service and are inspired by your bravery and sacrifice for your country. Welcome home," Steven Alch, the president of Bank of America's Central Florida Market, told the Vazquez family.    
The home comes courtesy of Bank of American and the non-profit financial services company Nehemiah Community Reinvestment Fund.  
Alch told FOX 35 that the bank made a commitment to donate 1,000 homes to veterans back in 2012.  Since then, they've donated 1,600 houses.  
"To say thank you to those that serve proudly and in fact provide us the blanket of freedom that we sleep under each night is an amazing experience for me," Alch said.
After a tour of the home, Vazquez said a prayer.
"I just want to thank god and hopefully this home will bring us lots and lots of years of joy," he said.
Vazquez served nine years in the Army.  
He deployed three times to Iraq and Afghanistan after enlisting just 16 days after the attacks of September 11.  
"I talked to my mom and dad and I said that I needed to do something about it," Vazquez said.  
Over the past five years Vazquez has moved from Puerto Rico to Texas and then to Orlando looking for a better way of life for his family.  
He told reporters he and Lizbeth are looking forward to putting down roots and creating a better future for their children.
"It means the world.  It means stability.  It means for once I can provide a future for my family," Vazquez said.