Florida deputies work to ID cold case murder victim found 30 years ago
article
FLAGLER COUNTY, Fla. - In January of 1993, two boys were playing basketball in their Palm Coast neighborhood on Sea Ship Place. Flagler deputies said their basketball went into the woods and when they went to get it, they found skeletal remains under some brush.
For 30 years, the identity of the woman has been a mystery. The Flagler County Sheriff's Office believes she was murdered 2 to 3 years prior to being found. 
At the time, anthropologists from the University of Florida and the Medical Examiner's Office were able to provide the following estimates about the victim:
• She had been deceased for approximately 2-3 years
• She is a white female, possibly Indian
• 25-35 years old (she would have been born between 1955-1965)
• Approximately 64 inches in height (5 ft 3 inches)
• Has an old right nasal fracture
Over the years, several missing persons cases have been compared to the woman, but no matches have ever been made. 
MORE NEWS: Watch: Helicopter video shows rescue of missing 4-year-old Florida boy
In July 2021, through genetic genealogy research, a DNA profile was developed to help identify more about the victim. For instance, results showed that she is African American – possibly mixed with Caucasian – and that she is a descendant of George Washington Coleman and Clarissa Minnick from the Edgefield/Aiken, South Carolina area.
The sheriff's office said at least 30 relatives have been contacted from the extensive family tree, but so far, her identity remains unknown.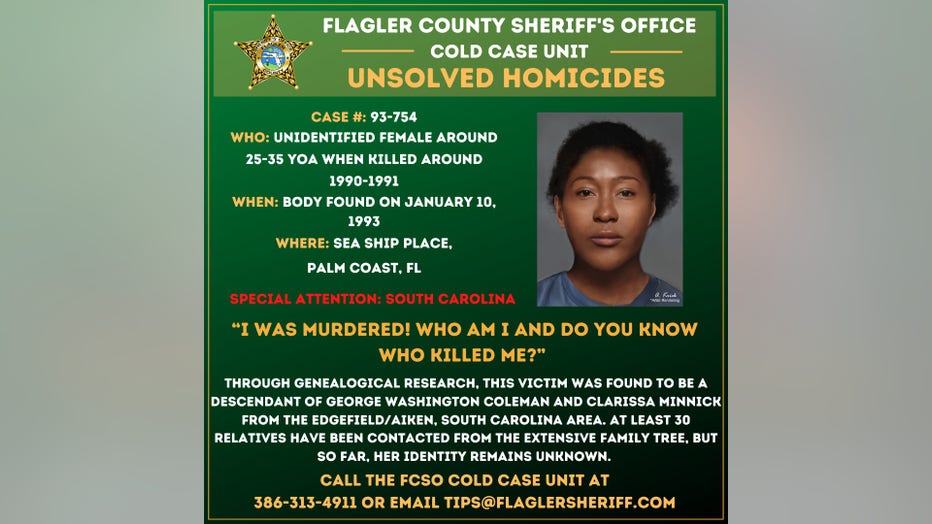 Flagler Co. Sheriff's Office
Last month – on the 30th anniversary of her discovery – the skull of the victim was brought to forensic artists with the Palm Beach County Sheriff's Office who were able to reconstruct the victim's skull and create a new facial approximation. 
MORE NEWS: Florida father desperate for leads after he says dirt bike rider ran son over before taking off
"It should be noted that facial reconstructions aim to achieve a likeness of the unidentified individual and should not be viewed as a portrait of the individual," the sheriff's office said.
"We hope that someone may be able to identify this woman so we can bring closure to her family who has been waiting for over 30 years to know what happened to her," said Sheriff Rick Staly. "We know someone out there knows something."
If you have any information or can identity this victim, please contact the sheriff's office at 386-313-4911 or call CrimeStoppers of NE Florida at 1-888-277-TIPS. You could be eligible for a reward up to $5,000.