Florida adds 1,885 new COVID-19 cases, 68 additional deaths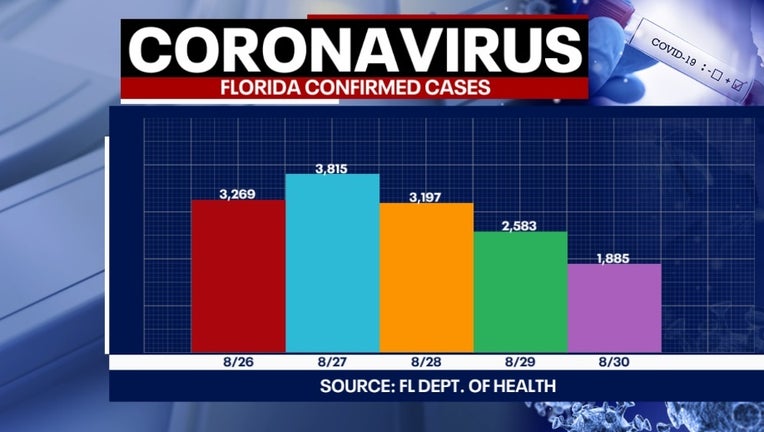 ORLANDO, Fla. - Cases continue to decrease as the Florida Department of Health reported 1,885 new coronavirus cases on Monday, along with an additional 68 deaths.
623,471: Total number of cases.

1,885: Increase in cases from a Sunday count.

1,187: Deaths of Florida residents.

68: Increase in Florida resident deaths from a Sunday count, with deaths of people who tested positive in Broward, Miami-Dade, Hillsborough, Lake, Lee, Marion, Martin, Orange, Palm Beach, Pasco, Pinellas and Polk counties.

144: Deaths of non-Florida residents.

4,702: Deaths of residents and staff members of long-term care facilities.

20: Increase in long-term care deaths from a Sunday count.

3,736: People hospitalized with primary diagnoses of COVID-19, the respiratory disease caused by the coronavirus.

62: Decrease in people hospitalized from a Sunday count.

27.4: Percentage of available hospital beds statewide.

24.7: Percentage of available adult intensive-care unit beds statewide.

39,507: Test results received Sunday by the Florida Department of Health.
5:30 p.m. -- As the U.S. attempts to stem the tide of the novel coronavirus pandemic, the count of Americans infected with COVID-19 surpassed 6 million as of Aug. 31, according to data from Johns Hopkins University. More than 183,000 Americans had died from the disease. Read more here
10:00 a.m. -- A rapid COVID-19 testing site is coming to the Millenia Mall area and can provide test results within 15 minutes, the company behind the site said. Read more here
9:00 a.m. -- Hotels at the Universal Orlando Resort announced more than 800 employees will be losing their jobs as the Florida theme park industry continues to be devastated by the pandemic. Read more here
8:00 a.m. -- Volusia County will officially join the rest of Central Florida on Monday, beginning the school year with both in-person and online options for families. Read more here