Federal complaint filed after picture said to show Nazi salute sent to Jewish firefighter in Florida
MELBOURNE, Fla. - A Florida firefighter is in the hot seat after a picture emerged that appears to show him posing as Adolf Hitler and giving the Nazi salute, according to a complaint filed with the Equal Employment Opportunity Commission (EEOC). 
After the photograph circulated around the Melbourne Fire Department, one of the firefighters, who is Jewish, filed the federal complaint. 
The complaint alleges that, in the image, it appears that a member of the fire department is also wearing a combat helmet and a fake black mustache while wearing a shirt with the Melbourne Fire Dept. seal.  A fellow firefighter, Aaron Starkey, said the photograph was circulating within the department and was sent to him. "Exhibit A" in the complaint is the photograph that has sparked the controversy.
"My client is Jewish, but you don't have to be Jewish to be offended by it," said Dan Perez of Perez Law who is representing Starkey. "It's highly offensive, it's inflammatory, and has no place in any workplace – private or public, like the City of Melbourne Fire Department."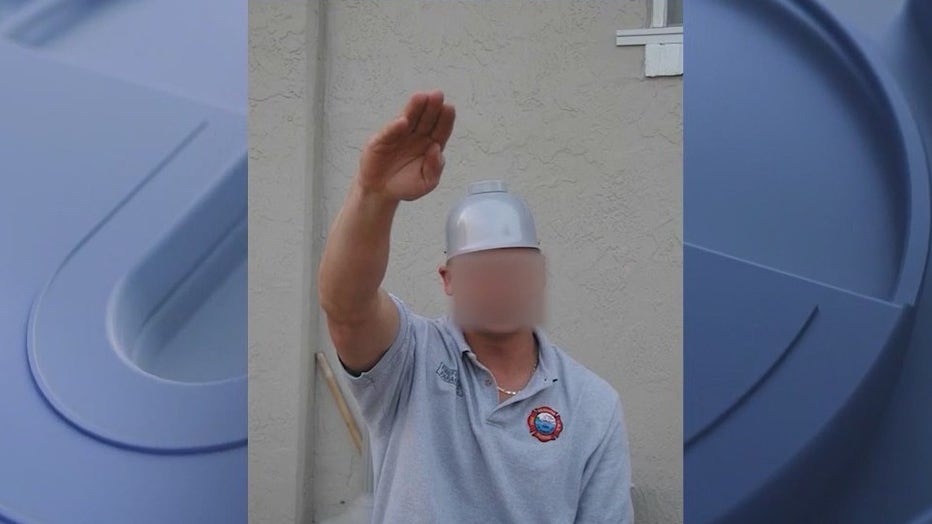 The Melbourne Fire Department has launched a formal investigation. In a statement, a spokesperson for the department said:
"The City of Melbourne takes allegations of any kind of discrimination, harassment, and retaliation very seriously. The City received notice of the EEOC Complaint to the Florida Commission on Human Relations on late afternoon on April 21, 2023. We will be conducting a thorough investigation in accordance with city policy. When conducting formal investigations there is established due process that must be followed in order to ensure the legal rights of all those involved. Upon completion of the investigation, any employees found to be in violation of the City's policies will be subject to disciplinary action up to and including dismissal."
FOX 35 News reached out to the Melbourne Professional Firefighters Union for comment, and we received this statement:
"The Union is aware of the complaint.  We are representing this member within the confines of our duty of fair representation and because Mr. Starkey has elected to file an EEOC charge, rather than a grievance, we will not be commenting any further on this matter until after the investigation has been concluded."
Perez said his client wants someone to be held accountable and more diversity training in the department.
"That's what it looks like after a 'stop-woke' world – where some workers feel maybe we have a license or permission to behave in this way," said Perez. "If they received the proper training, and education they would not have."
The EEOC has six months to investigate, and after that, Starkey can file a lawsuit in court.