TikTok request goes viral: Fearing he may die during surgery, man buys wife birthday cake in advance
PALM COAST, Fla. - A heartwarming request has gone viral in Flagler County.
Last month, Keith Hall walked into Cupcake Café in Palm Coast for a simple request. He wanted to pay for his wife's birthday cake in advance because he was going in for surgery on March 1.
Hall, who goes by "Mr. Keith" in the now viral TikTok video, wanted to pay for the cake in advance because he didn't know if he would survive the upcoming surgery. It's a surgery that he's had before, that actually killed him but thanks to CPR he was brought back to life.
The bakery owner, Theresa Tazewell, fell in love with the reasoning behind the story and posted the request and updates to her TikTok account. Tazewell tells Mr. Keith that she won't take his money, and instead they make a deal. He can pay her back after his March 1 surgery when he picks up the cake himself. In case he didn't make it through the surgery, the bakery would take care of the tab and call Mr. Keith's wife to tell her she has a cake.
"So this is our deal and this is our binding contract, I'm not going to charge you for this damn cake because you're going to pay for it when you come in and pick it up," Tazewell said in her TikTok video while holding back tears.
Tazewell told FOX 35 News she knew she needed to make this deal. "I don't know why it popped into my head, maybe it was God talking to me, but you know God said, in that moment, he was like 'make a deal with him' so he knows he has to come back and pay for this cake."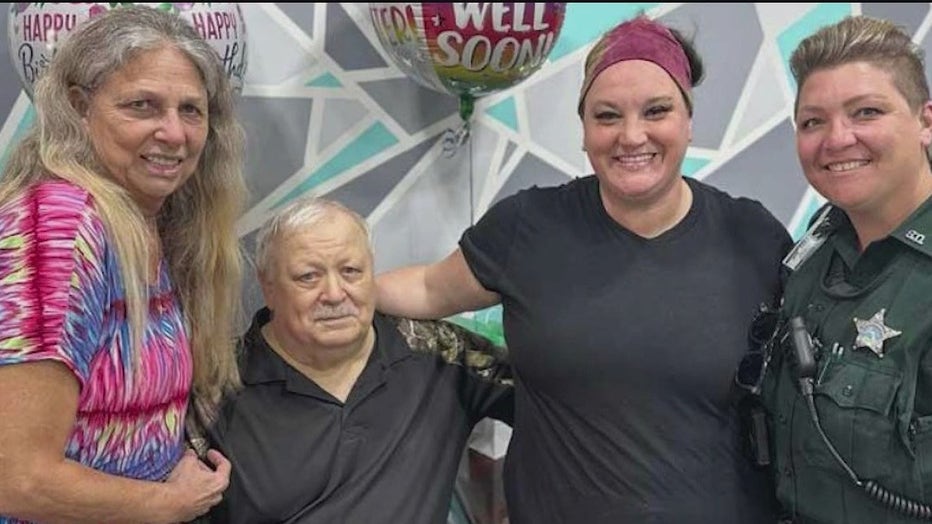 Tazewell said regardless of the outcome, he was never ever going to pay for that cake.
Mr. Keith told FOX 35 his wife is a cancer survivor, and she's been by his side through some tough times. He said he couldn't imagine not planning something special for her birthday.
"I'm a Marine, we always have plans," Keith said. "I wanted her to know that whether I'm there or not, I haven't forgotten her."
Theresa and the millions of people on TikTok waited to see if Mr. Keith made it through. He did! He made sure he kept his promise and called Theresa to let her know.
"He called me at 8 o'clock the night of his surgery, and he called me at five in the morning the day after. It was on his mind, he called me with a tube down his throat to tell me that he was ok, I have the voicemail on my phone."
When Mr. Keith came to pick up the cake for his wife, he had quite the crowd to greet him, including Flagler County Deputy Laura Jenkins who was also moved by his story.
Mr. Keith never thought his story would move so many people but wants his wife to know how much love he has for her. "She was worth standing by her during tough times. Then I started having tough times and she's always stood by me and I couldn't ask for a better wife."