Dog pants debate dividing the internet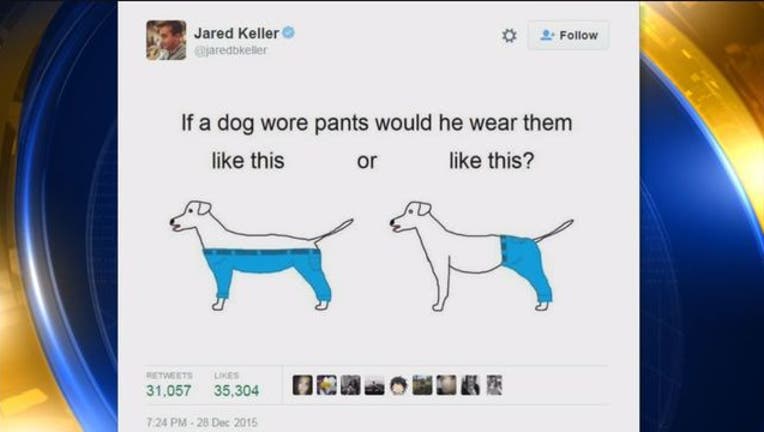 article
It's the latest viral internet debate since "The Dress." Twitter, Facebook and Reddit users are all abuzz and arguing how a dog would wear human pants. (Yes, really.)
Maxim writer Jared Keller tweeted an image Monday night asking if a dog wore pants, would the dog wear it covering all four of its legs or only covering its hind legs. As Keller put it, "the internet quickly lost its damned mind" and the tweet spread like wildfire.
Keller said he found the image on his Facebook news feed that was originally posted on the Utopian Raspberry – Modern Oasis Machine Facebook page.
The Facebook page's administrator and creator of the dog-pants image is a 19-year-old Belgium graphic design student named Norbert K., according to The Huffington Post. He created the image after seeing a photo of his girlfriend's dog wearing pants on its hind legs.
"[The photo] made me think about how technically his pants should go on every leg (not just two) because he's not a human. So I've drawn both versions. I wanted to hear other people's opinion," Norbert told The Huffington Post. "Dogs don't wear pants on their own so this is all just a human problem."
Obviously, Twitter had a field day with this debate.
So what is the correct answer? Vote in our FOX 5 DC poll and SOUND OFF on our Facebook and Twitter pages.