DeSantis talks recount, Brenda Snipes on 'Thank You' tour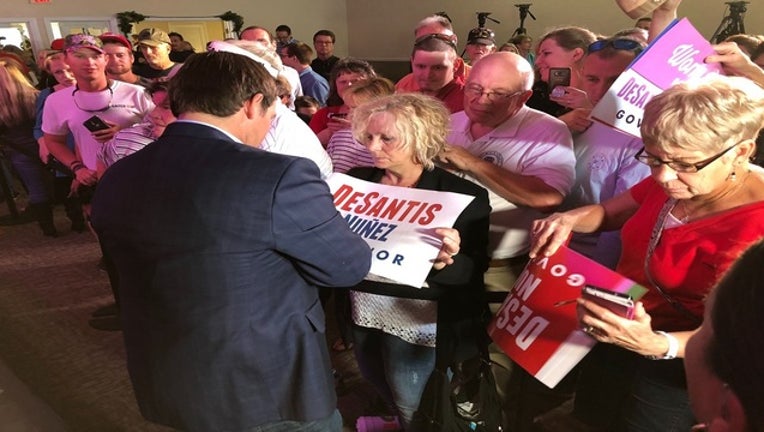 article
PORT ORANGE, Fla. (FOX 35 WOFL) - Governor-elect Ron DeSantis visited Port Orange in Volusia County, Saturday, as part of his 'thank you tour.'
The event happened at 4 p.m. at the Riverside Pavilion. 
DeSantis credited Volusia County for helping push him to victory. DeSantis formally served as the area's U.S. Representative.  "It's great to be in Volusia County," he said. "Thank you, Volusia County, for what you did for us."
The Governor-elect promised to stick by his platform while also poking fun at the state's ballot recount, which made headlines around the country. 
The crowd burst into "lock her up" chants when DeSantis spoke about Broward County Supervisor of Elections Brenda Snipes. 
Despite jokes, when questioned, DeSantis said he believes events that led to the recount should have consequences. 
"I think we have a pretty good system if followed," he said. "So the question is, are there going to be penalties if you just disregard the law?" 
Snipes resigned from her position as Broward Supervisor of Elections in late November and was set to retired in January. However, she rescinded that resignation after Governor Rick Scott decided to suspend her just a few days later. 
DeSantis questioned whether the withdrawal was legitimate. He said if it is, he plans to block her from the position. 
"I think there's a difference of opinion about whether you can actually withdraw the resignation at this point, but if you can, what will happen is that will end up before the state senate when I'll be governor, so that'll probably be a vote in March," DeSantis said. "They will have to vote to either reinstate her, or to terminate her, and I obviously will be saying that she should be terminated and the new supervisor should remain there."