Cocoa Police K9 awarded with American Kennel Club's Humane Fund Award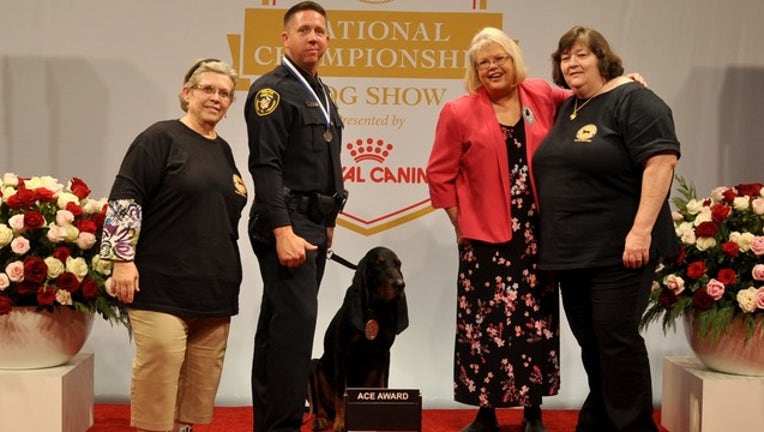 article
COCOA BEACH, Fla. (FOX 35 WOFL) - A Cocoa Police K9 was awarded with the American Kennel Club's Humane Fund Award for Canine Excellence (ACE) this past weekend.
The award reportedly recognizes loyal, hard-working dogs that have improved the lives of their owners and communities. K9 Cooper and Handler Officer Chris Hattaway accepted the award at the American Kennel Club's National Championship events in Orlando. 
"Whether saving lives or providing comfort, these five ACE recipients serve as testimony to the immeasurable ways our canine companions touch our lives every day," said Doug Ljungren, President of the AKC Humane Fund. "Each dog's loyalty and dedication to their work and community is an inspiration to dog lovers everywhere. We're thrilled to honor their achievements with an ACE Award."
K9 Cooper is said to have joined the Cocoa Police Department in 2016 as a 14-week old pup. He was officially sworn-in early 2017. He immediately began training. He has since become a nationally registered therapy dog used to comfort crime victims, including children who have been traumatized by abuse and must testify in court. 
Cooper is also said to be an American Kennel Club Certified Good Citizen and is trained in scent tracking, which is a critical asset during search operations for missing and endangered persons.
Cooper is currently assigned to the Community Resource Unit with Officer Chris Hattaway. The team works many community events and outreach at local schools and civic groups.
"Copper has become a local celebrity and has accomplished so much for our community," said Officer Chris Hattaway. "Together we are able to make a positive impact in uniting law enforcement with the public and create unique bonds with the people we meet. I'm so honored to have him and am humbled and so appreciative of this recognition."
As a recipient of the ACE award, K9 Copper and Officer Hattaway will reportedly receive $1,000 to be awarded to a pet-related charity of their choice. They also have received a one-year pet insurance policy from AKC Pet Insurance provided by Pet Partners and an engraved sterling silver medallion.