Benefit concert happening on Saturday for New Smyrna Beach shark attack survivor
MELBOURNE, Fla. - A local shark attack survivor is back on his feet and wants to celebrate with the community.
Chris Pospisil is an avid surfer from Palm Bay and was bitten by a shark in New Smyrna Beach over the summer which severed numerous tendons in his foot. 
He's recovering well, and the community can meet him at a special event happening on Saturday night. 
The event starts at 6 p.m. at Iron Oak Post in downtown Melbourne and is open to the public. There will be several local bands and raffle prizes donated from various small businesses. 
This week, Pospisil celebrated his 22nd birthday and is walking without crutches again, but it hasn't been easy to get here. He's been homebound for over a month doing rehab after the shark latched onto his foot.
RELATED: 2 bitten by sharks at same Florida beach on Labor Day, officials say
His cousin wanted to celebrate his healing and bring the community together, so she started organizing the benefit event.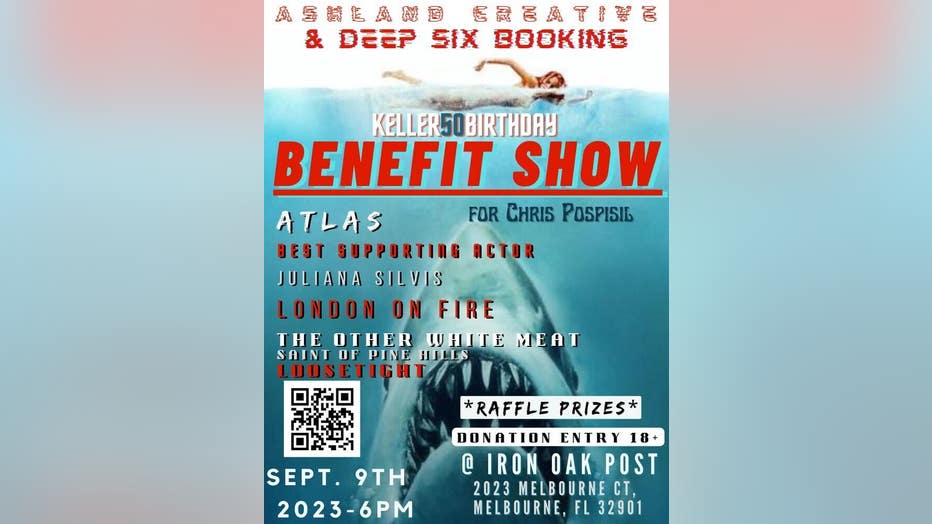 "I knew that I knew a lot of local businesses. I have a lot of friends in local bands here. I knew that we could put something together that would be something for the community to come and be a part of," said Ashley Lumetta who's been supporting Chris, along with other family and friends, since day one of his recovery. "Also, they would get to meet Chris, anyone who did donate, they would get to meet him now that he is feeling better."
The attack shattered a lot of Pospisil's normal routine, so he's grateful for all the support. 
"I feel very loved, very loved. It's very heartwarming to see everyone come together, you know – my family and people I don't even know are reaching out to me and telling me how much my story has motivated them and makes me very happy," Pospisil shared. 
He says he still has pain and numbness in his foot but is glad he isn't stuck at home anymore. Doctors say he should be able to surf again in January, but he's optimistic and thinks he'll be back in the water by November.