Authorities investigate deadly house fire in Kissimmee
LAKE MARY, Fla. - The Kissimmee Police Department and the State Fire Marshal's Office are investigating after a body was found at a home where a fire was reported early Friday afternoon. 
Firefighters from the Kissimmee Fire Department and Osceola County Fire Rescue responded to a call reporting the fire at 2361 Lilly Pad Ln. around 12:30 p.m. on Friday.  
"This is an active scene, and it's still being investigated and once we have more information we will be providing it to you," said Melissa Zayas-Moreno with the Kissimmee Police Department.
No other details were immediately made available by authorities.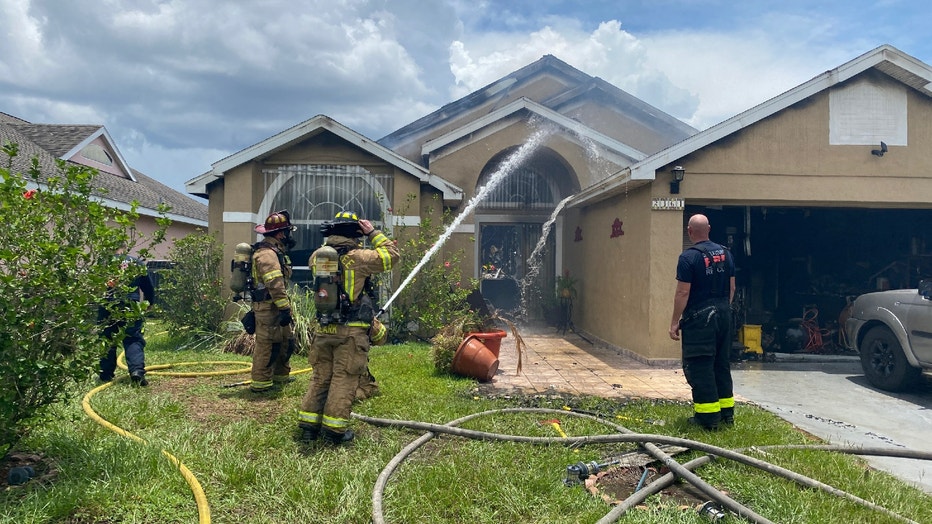 (Kissimmee Fire Department)
Video captured by neighbors shows people trying to put the flames out with a garden hose before firefighters arrived. By the time it was over, a large portion of the roof was gone.
Officials did not identify the person who died, but neighbors believe he was a man is his 70s or 80s.
"He seemed like a real nice humble guy," said Angel Carrion, a neighbor. "Just an outgoing person."
"I didn't really know him well, but he was a nice guy, he was great," said Noha Cruz Rentas.