Arsonist finally caught from 2016 patrol car fire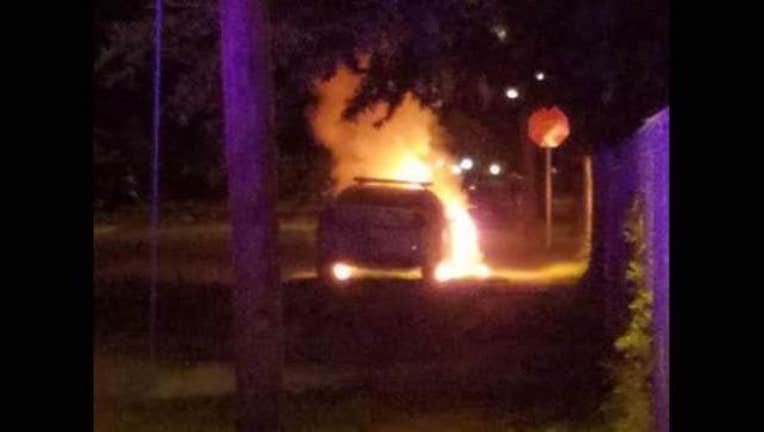 article
HOLLY HILL, Fla. (WOFL FOX 35) - A criminal suspected of torching a patrol car last year as a "welcome mat" for Volusia County Sheriff Mike Chitwood is finally in custody for arson and other charges. 
The Volusia County Sheriff's Office (VCSO) reports that the suspect is Frederick Davis, 40, of Daytona Beach. Officers were able to link the crime to the suspect by the sound of his voice and evidence at the scene.
Davis was arrested Friday in Seminole County, where he's being held on charges out of Seminole, Volusia, and Orange county. 
The fire happened on September 23rd, 2016 at an AAMCO Transmission shop in Holly Hill. A VCSO patrol car was in for service when it was torched with another vehicle at the lot. While processing the scene, deputies found the evidence that linked Davis to the crime.
VCSO also reported receiving 911 calls from the person claiming responsibility for the fire. In his call, the suspect said he wanted to leave a message for then-Sheriff Elect Chitwood. He went on to say that the fire was a "welcome mat" for the new sheriff. He ended his final call by saying "trace that, b****!"
The call was traced to a stolen cell phone that had made its way to the streets of Daytona Beach.
VCSO reports that while detectives continued to work on the investigation, a 2015 courtroom recording of Davis' voice was found. It matched with the voice of the arsonist on the phone.
Davis was being held Monday at the Seminole County Jail in a no-bond status for a fleeing or attempting to elude charge, in addition to several other charges carrying a total bond of $128,000.