Amway Center to serve as polling location for 2020 election
ORLANDO, Fla. - Orlando's Amway Center will be used as an early voting polling location for voters in the 2020 election in November. 
The announcement was made on Wednesday during a news conference attended by Orlando and Orange County leaders and Orlando Magic star Mo Bamba.
"I saw fit that we use the Amway as a place, a voting station. I saw a couple of other teams were doing it and I thought it would be a grand idea for us to do it in Central Florida," Bamba said.
After Bamba shared the idea with Orlando Magic's CEO Alex Martins, they approached Orlando and Orange County leaders.
"And kind of hit the ground running," Bamba added.
Converting the Amway Center and other facilities into polling locations was a condition agreed upon by the league and the players for them to continue in the NBA playoffs after going on a brief strike in protest of the shooting of Jacob Blake. 
The Amway Center is now one of 14 NBA arenas that will serve as a polling location for either early voting or Election Day.  Bamba said it is important to make voting accessible to everyone. He also said that he will be volunteering on Election Day and hopes others will too.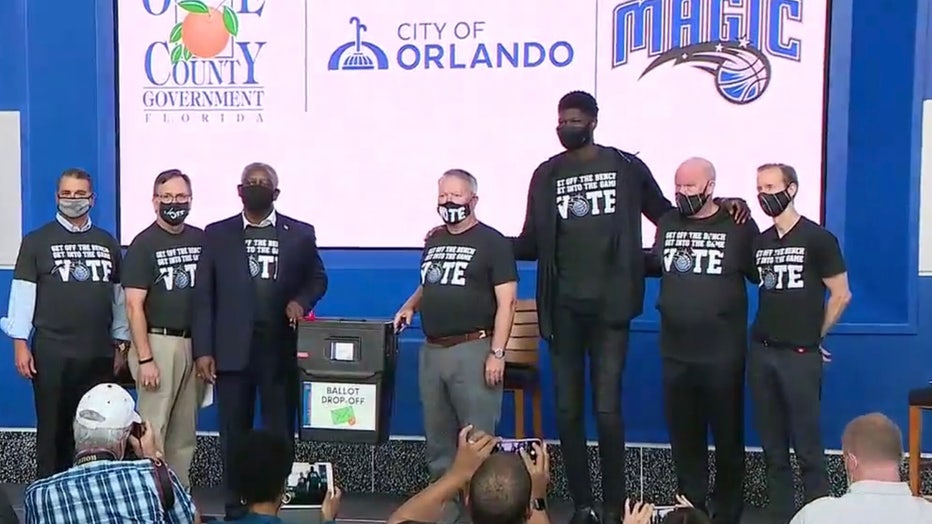 "It means a lot. Get to meet some new people, safely of course. Hopefully, it'll draw in some more people who are on the fence about voting," Bamba added.
Orange County Mayor Jerry Demings is moved by this decision.  He told reporters that in the 1950s his family lived in a home where the arena now sits. 
"Back then, this was a segregated community in Orlando. So for the fact that we're here today to work in collaboration to make this announcement, it is nothing short of extraordinary for me to be here to participate on this occasion in the historic Parramore community," Mayor Demings said.
Other Magic players plan on volunteering at the Amway Center's early voting polls as well.  Bamba hopes the presence of he and his teammates will encourage first-time voters to exercise their right and get more involved. 
"You know, I'm not a politician. I'm not really into politics, but I do see fit learning about politics and what's going on in the world and doing what I can to be the change leader and see how I can impact it. Quite frankly, I have a platform and I want to use it the right way," Bamba said. 
Early voting will start on October 19 and runs through November 1. The Amway Center will be open from 8 a.m. to 8 p.m.  A "Get Out and Vote" event will take place at the Amway Center on Sept. 22.
(Mobile users watch the announcement HERE)