'All rats must die': Chicago gang member sentenced after naming witnesses on Facebook
CHICAGO - A Chicago man was sentenced to six years in federal prison last week for retaliating against two witnesses who cooperated with an investigation into the activities of a gang he was a member of.
Javion Bush, 23, pleaded guilty earlier this year to a charge of obstruction of justice after he posted an image to Facebook in 2021 that named two people who testified before a federal grand jury that was investigating the Goonie Gang, a Chicago street gang faction, according to a statement from the U.S. Attorney's Office.
Bush, a member of the gang, discovered the identities of the witnesses after reading a police report that had been given to another Goonie Gang member who was being tried for murder.
After learning their identities, Bush posted an image on Facebook that named the two witnesses along with a note that said, "All rats must di (sic.)" The post was also tagged with the Facebook accounts of both witnesses, prosecutors said.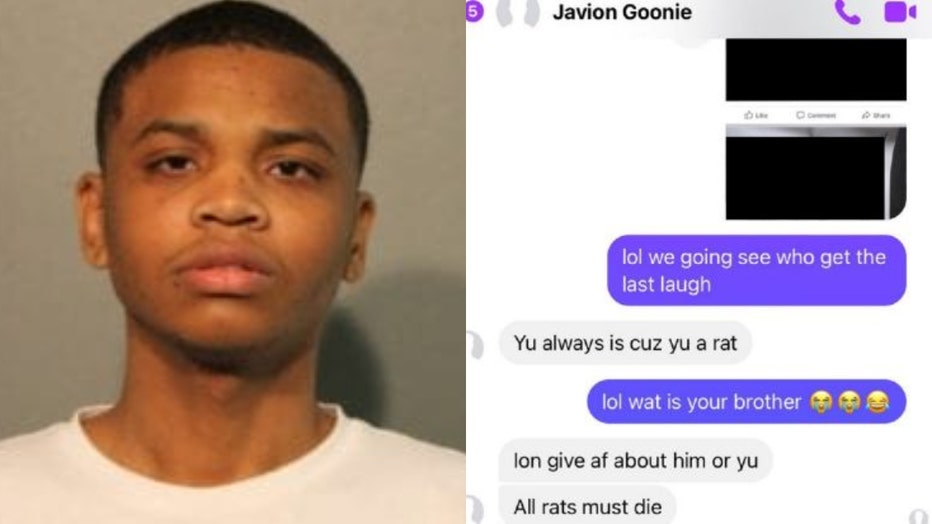 "Without witnesses, the truth about an incident will never be found," Assistant U.S. Attorney Albert Berry III said in the government's sentencing memorandum. "Witnesses should be protected at all costs and threatening them should be sanctioned swiftly and severely."
The investigation into the Goonie Gang spanned several years and resulted in the convictions of numerous members and associates, including three Goonie leaders who were convicted this summer of racketeering conspiracy. Jurors found that members of the gang were responsible for six murders in Englewood on Chicago's South Side.