Against doctor's advice, FHSAA board clears high school sports to start amid pandemic
GAINESVILLE, Fla. - The Florida High School Athletics Association went against medical advice given at its meeting Friday and agreed to allow fall spots to begin August 24.
"The Sports Medicine Advisory Committee does not recommend starting any sports in any part of the state until we are able to see what happens when school opens," Dr. Jennifer Maynard told the meeting of the FHSAA board Friday.
The doctor said all but one county had positivity rates above 5%, which was supposed to be the threshold for reopening schools.
Her advice was taken by some, as the board considered whether to allow start fall sports to proceed along with the school year or wait for a later date.
"I don't know how we do this and protect kids and protect the opportunity to have any kind of a season," said Chris Patricca, a member of the board who voted against the measure.
The vote was 11-5 in favor of starting seasons Aug. 24.
Leading up to the vote, there was an aggressive social media campaign to allow sports to take place, including supportive statements from Gov. Ron DeSantis and Sen. Marco Rubio.
PREVIOUS: Thousands sign local #LetThemPlay petition ahead of prep sports decision
The father of Noah Kent, a rising senior on Cambridge Christian School's football team, started an online petition to encourage FHSAA to let sports resume. Since going live Tuesday, it gained traction on social media using the hashtag, #LetThemPlay, and garnered more than 40,000 signatures in the process. 
Kent said that with many issues young people are dealing with, sports are a source of refuge.
"That atmosphere supports student-athletes mentally, physically, emotionally, physiologically," he told FOX 13. "It provides kids with healthy leadership."
PREVIOUS: FHSAA delays start of high school fall sports to Aug. 24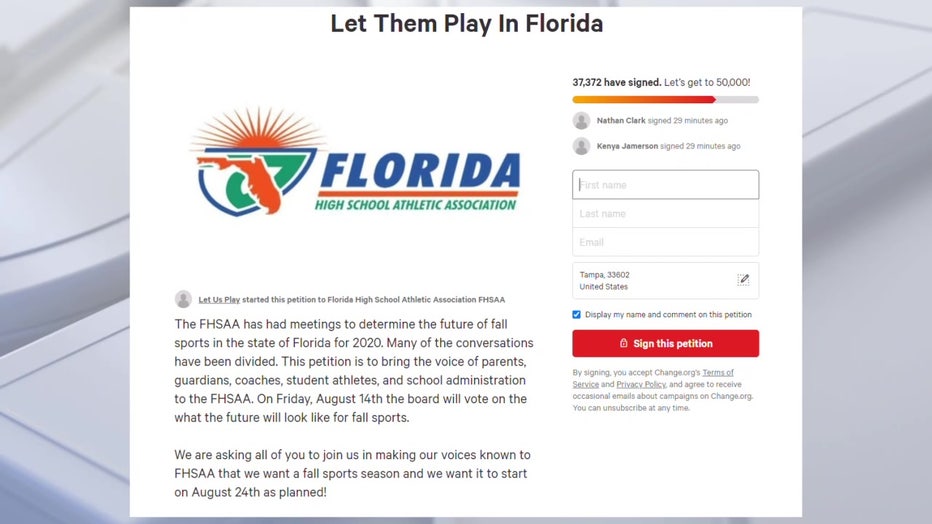 The athletic director of Cambridge Christian sent the petition to each of the FHSAA's 16 board members, hoping to push them in that direction.
During Friday's board meeting, one supportive board member said it would be more dangerous for students to be doing the same activity but on their own, away from school.
"I agree this is a worrisome time," said board member Sue Tortora, who voted in favor. "But kids are going to do what kids are going to do."
Individual districts can still choose not to play, or push back their seasons.
Hillsborough County says sports can begin Aug 24.
Pasco County says it plans to allow sports to resume Sept. 7.
Pinellas County says it will announce its start date for sports next week.
The board also gave districts the option of waiting until Sept. 18 to let the state know if it will participate in championship series.
"Athletics has been something that has pulled communities together," said board member Chalmus Thomas. "It has pulled this country together."
The first night of football games could be Sept. 4.