5 secret bars worth finding in Central Florida
ORLANDO, Fla. - You might need a password to be let inside some of the secret, hidden bars of Central Florida.
Modern-day speakeasies are gaining popularity for their discreetness as they are typically hidden within restaurants or other venues.
The secret bars often offer guests a retro ambience – creating the perfect venue to enjoy a creative cocktail. 
Here are five secret bars in the Orlando area that are worth finding. 
Vault 5421
This secret bar is located where you would least expect it – inside the Gods & Monster comic book store in Orlando.
There is a 100+ bottle selection of craft beer, cider mead, sake and wine served at the hidden oasis, along with rotating seasonal selections of themed saketinis, mixed drinks and shots, according to the bar's website. Guests can also play some of the retro games the bar has to offer for free.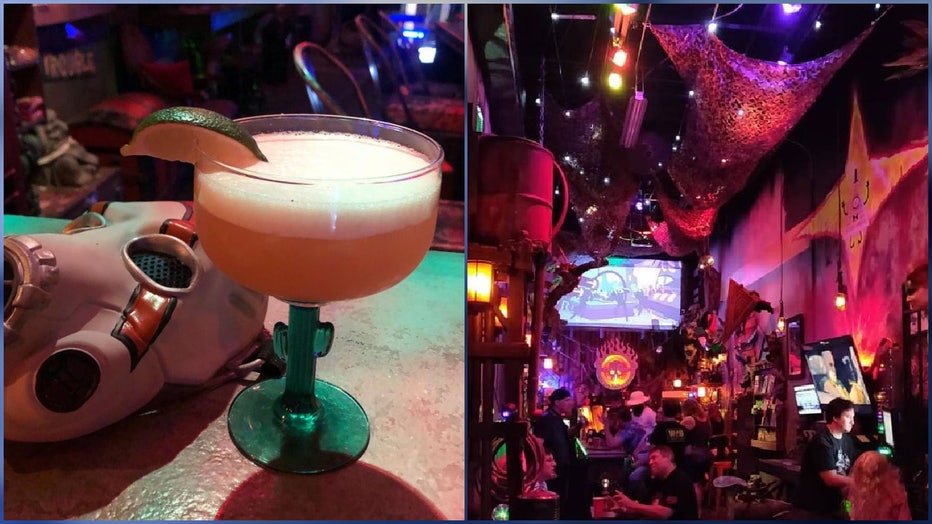 (Photos via Vault 5421 Instagram page)
Address: 5421 International Dr, Orlando
Bar hours: 
Sundays: 2 p.m. to 8 p.m.
Wednesdays and Thursdays: 5 p.m. to 11 p.m.
Fridays: 5 p.m. to 12:50 a.m.
Saturdays: 2 p.m. to 12:50 a.m.
Closed on Mondays and Tuesdays
Suffering Bastard
Tucked away inside the Tuffy's Bottle Shop in Sanford is a tiki bar known as the Suffering Bastard. 
Before you visit, be sure to make a reservation online, or be prepared to be put on the wait list, as the bar does not take day-of reservations. 
Address: 200 Myrtle Ave, Sanford
Bar hours:
Wednesdays and Thursdays: 5 p.m. to 10 p.m.
Fridays and Saturdays: 5 p.m. to 12 a.m.
Sundays: 5 p.m. to 10 p.m.
Hanson's Shoe Repair
This rooftop bar, located on the third floor of the Hanson building in downtown Orlando, is a revival of an old speakeasy that opened during the Prohibition Era and disguised itself as a shoe repair shop. Just like in the good old days, you need a password to get in, which you can find daily on Hanson's Twitter page.
Address: 27 E. Pine Street, Orlando
Ann Teague's Lamp Supply
At first glance, it looks like the average lamp and lighting shop. But Ann Teague's Lamp Supply is actually a cocktail bar, or a "mixology lab," as they like to call it. 
As described on its website, this venue "curates a neighborhood feel while retaining the high standards of a true speakeasy establishment back in the 1900s."
(Photo credit: Ann Teague's Lamp Supply)
The bar serves elevated and creative cocktails, taking guests on a journey around the world with its unique spice routes and flavors. Your beverage of choice might even be served in a bulb.
Address: 22 S Magnolia Ave, Orlando
Bar hours:
Tuesdays and Wednesdays: 6 p.m. to 1 a.m.
Thursdays through Saturdays: 6 p.m. to 2 a.m.
Sundays: 3 p.m. to 10 p.m.
Taco Kat
Inside the Taco Kat restaurant in downtown Orlando, you'll find a hidden speakeasy lounge. Instagram user @orlandotravelfoodies says it is hidden behind a walk-in freezer called Cool Kats.
Address: 1 S Court Ave, Orlando
Bar hours: Tuesdays, and Thursdays through Sundays from 9 p.m. - 2 a.m.