Can the Federal Reserve keep raising interest rates?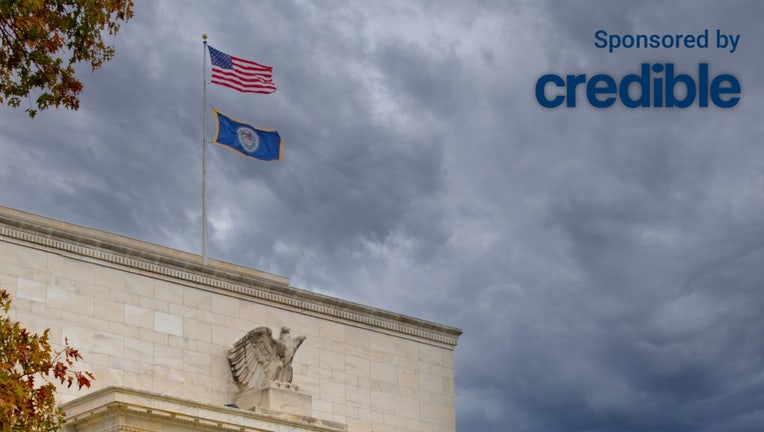 article
Money experts project no future interest rate hike after the Federal Reserve's next meeting in September, according to a survey conducted by the Federal Reserve Bank of New York. They also expect the central bank to cut rates at its April 2024 meeting.
However, some market participants projected rate cuts starting sooner, according to the survey. Some predict a quarter percentage point cut at the March 2024 meeting.
The New York Fed expects a 4% federal funds rate, but the market participant survey predicted 3.88%. Following the Fed's recent rate hike, the federal funds rate stood at a targeted range of 5.25% to 5.5%, the highest level in 22 years.  
If you are looking for ways to reduce your monthly expenses, paying down debt could be a good place to start. A personal loan could help you consolidate your monthly payments and pay down debt at a lower interest rate. Contact Credible to speak to a loan expert to see if this is the right option for you.
Fed officials say future rate hikes likely
Despite evidence of inflation dipping from its peak of 9.1% in June 2022, the Fed has maintained a tight monetary policy, increasing interest rates several times. And the central bank may not slow down until it's positive that it's meeting its goals of shrinking inflation down to its 2% target range. 
"The latest economic data have come in stronger than expected, which suggests that the ultimate level of interest rates is likely to be higher than previously anticipated," Fed Chairman Jerome Powell testified to the Senate Banking Committee earlier this year. "If the totality of the data were to indicate that faster tightening is warranted, we would be prepared to increase the pace of rate hikes."
Other officials have expressed future rate hikes are not off the table.
"Additional rate increases will likely be needed to get inflation on a path down to the FOMC's 2% target, Fed Governor Michelle Bowman said during an event with the Kansas Bankers Association in Colorado.
"I will be looking for consistent evidence that inflation is on a meaningful path down toward our 2% goal as I consider further rate increases and how long the federal funds rate will need to remain at a restrictive level," Bowman continued. "I will also be watching for signs of slowing in consumer spending and signs that labor market conditions are loosening."
If you're struggling with high-interest debt in a troubling economy, you could consider paying it off with a personal loan at a lower interest rate. Visit Credible to compare your options without affecting your credit score.
Labor market remains resilient 
The economy added 187,000 jobs in July, marking a slowdown from last month, according to data from the Bureau of Labor Statistics (BLS). The gain was also less than the average monthly increase of 312,000 jobs over the last 12 months. The unemployment rate in July was stable at 3.5%. It has remained steady in the past few months. Unemployment has ranged from 3.4% to 3.7% since March 2022. 
"Job growth is weakening, and wage growth is holding steady, but both are still above the pace that would be consistent with the Federal Reserve's inflation target," Joel Kan, Mortgage Bankers Association (MBA) vice president and deputy chief economist, said in a statement. 
"The incoming economic data continue to convey conflicting signals about the strength of the economy," Kan said. "Indicators of manufacturing and service sector health remain lackluster, measures of inflation have moved lower, while GDP growth in the second quarter was stronger than expected and consumer spending remains resilient."
If you're concerned about rising interest rates, you could consider paying down high-interest debt with a personal loan at a lower rate. Visit Credible to get your personalized rate in minutes.
Have a finance-related question, but don't know who to ask? Email The Credible Money Expert at moneyexpert@credible.com and your question might be answered by Credible in our Money Expert column.