Muschamp: Georgia game changed to Sunday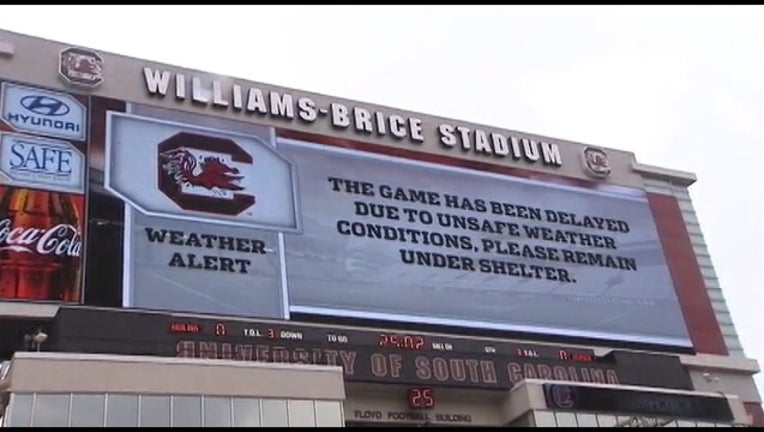 COLUMBIA, S.C. (AP) - COLUMBIA, S.C. (AP) — South Carolina coach Will Muschamp said his team's home game with Georgia has been moved from Saturday night to Sunday because of Hurricane Matthew.
The school and the Southeastern Conference announced Thursday night that the game would be played at 2:30 p.m.
"Due to the potential impact of the hurricane on Columbia and the surrounding area, it is in the best interest of safety to play the game on Sunday rather than Saturday night," SEC Commissioner Greg Sankey said. "I appreciate the cooperation of the schools who worked closely to make the appropriate operational adjustments in order to accommodate this change in the schedule.
The decision capped a long day of speculation about whether Matthew would significantly impact Williams-Brice Stadium.
When Muschamp started his weekly call-in show, he had not heard about any changes to the contest, originally scheduled for 7:30 p.m. Saturday. By the end of the show, Muschamp told fans about the game's shift to Sunday.
Georgia (3-2, 1-2 SEC) and South Carolina (2-3, 1-3) are each coming off of two straight league losses.
This is the second straight year weather altered a South Carolina home game: its LSU contest was shifted to Baton Rouge, Louisiana because of the fatal flooding that struck last October.
Muschamp thanks University of South Carolina President Harris Pastides, athletic director Ray Tanner and their staffs for taking precautions to keep fans safe and hold the game this weekend.
"There's a lot of moving parts and everyone's got to be on the same page moving forward," Muschamp said.
The Southeastern Conference earlier Thursday postponed the LSU-Florida game in Gainesville, Florida because of Matthew.
The South Carolina game will go off without the 100-to-200 state troopers who normally help with traffic flow after Gov. Nikki Haley said they'd be deployed to help areas affected by Matthew.
The school said in a statement Thursday night it would continue consulting with the National Weather Service, the SEC, the governor's office and state and local law enforcement agencies about potential issues related to Matthew.
"The University is confident in our ability to host the game on Sunday at Williams-Brice Stadium," according to the statement.
The school also asked Gamecock fans who don't need previous reserved hotel rooms to release the reservations so they might be available to those from coastal areas evacuating. It also asked hotel operators to be flexible about their standing two-night minimum stay to help accommodate both hurricane evacuees and fans.