Magic's Nikola Vucevic named to 2019 NBA All-Star team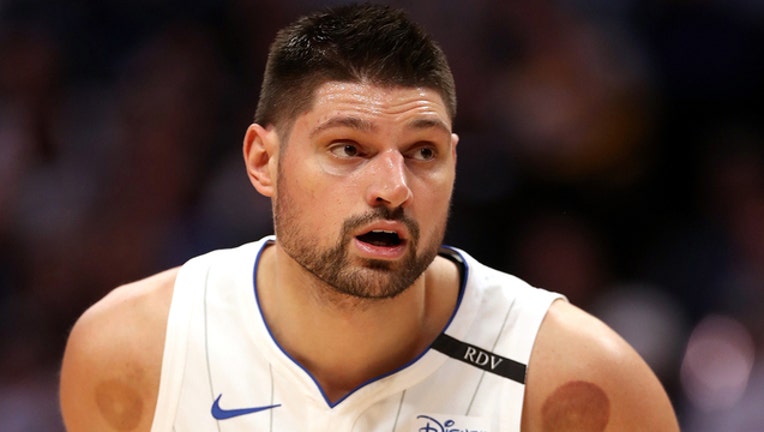 ORLANDO, Fla. (WOFL FOX 35) - Orlando Magic center Nikola Vucevic has been named to the 2019 NBA All-Star team.  Vucevic and the rest of the All-Star reserves were selected by NBA head coaches. 
It marks the first time that Vucevic has been selected as an NBA All-Star during his career and the first Magic player to make the game since Dwight Howard in 2012.  Other past players named an NBA All-Star while wearing a Magic uniform include Shaquille O'Neal, Anfernee Deon "Penny" Hardaway, Tracy McGrady, Grant Hill, Rashard Lewis and Jameer Nelson.
The other reserves from the Eastern Conference were Toronto's Kyle Lowry, Milwaukee's Khris Middleton, Philadelphia's Ben Simmons, Washington's Bradley Beal, Detroit's Blake Griffin and Indiana's Victor Oladipo -- even though Oladipo's season is over because of injury. 
Vucevic has played and started in 50 games this season, averaging a team-high 20.7 ppg., a team-high 12.0 rpg., 3.8 apg. and 1.16 blkpg. in 31.3 minpg., while shooting a team-best .520 (434-834) from the floor and .377 (58-154) from three-point range. He has led (or tied) the Magic in scoring a team-best 23 times, in rebounding a team-best 40 times and in assists 12 times.
He ranks fifth in the NBA in double-doubles, tenth in rebounding, 23rd in FG percentage, 25th in scoring and tied for 28th in blocked shots. He has scored in double figures a team-high 48 times, 20+ points a team-high 29 times and 30+ points five times, including a season-high 36 points on Nov. 17 vs. L.A. Lakers. Vučević has had 10+ rebounds a team-high 35 times, 15+ rebounds 12 times and 20+ rebounds once, including a season-high 24 on Jan. 6 @ L.A. Clippers. He has recorded a team-high 34 double-doubles. Vučević was also named NBA Eastern Conference Player of the Week for the period ending Nov. 18, 2018.
The 2019 NBA All-Star Draft takes place on Feb. 7 and will be televised by TNT (7 p.m. ET) will be televised by TNT.  It will be handled by team captains LeBron James and Giannis Antetokounmpo.
James will have the first overall pick, and they'll keep going until each side has 12 players for the matchup. James and Antetokounmpo will pick the starters first -- with that pool including Philadelphia's Joel Embiid, Toronto's Kawhi Leonard, Boston's Kyrie Irving, Charlotte's Kemba Walker, Golden State's Stephen Curry and Kevin Durant, Oklahoma City's Paul George and Houston's James Harden.
The 68th NBA All-Star Game will take place on Sunday, Feb. 17 in Charlotte, NC and will be televised by TNT (8 p.m. ET)