Fitzpatrick in, Winston out as Buccaneers' starting QB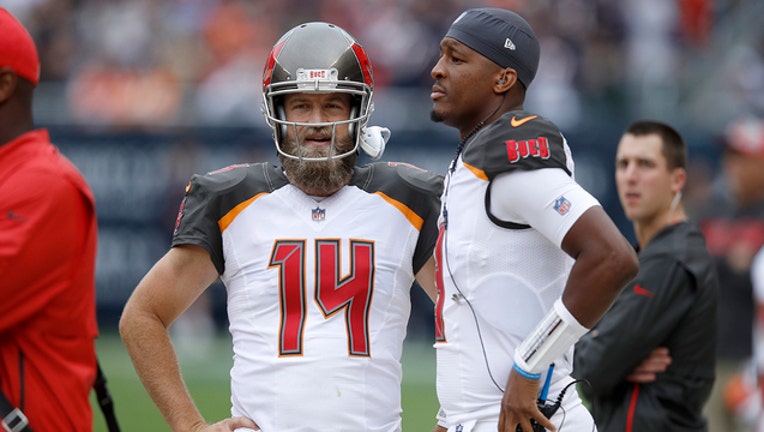 article
TAMPA, Fla. (AP) - Jameis Winston's inability to cut down on turnovers has cost him his starting job with the Tampa Bay Buccaneers.
Without speculating on what the move means for the young quarterback's future with the team, coach Dirk Koetter said veteran backup Ryan Fitzpatrick will lead the NFL's No. 1 ranked offense against the Carolina Panthers on Sunday.
Winston, 24, was benched after throwing four interceptions during last Sunday's 37-34 loss to the Cincinnati Bengals.
"We're going to start Fitz at quarterback this week. That's what we feel we need to do this week to give ourselves the best chance," Koetter said, adding Monday's decision to turn to the 35-year-old Fitzpatrick is "just for right now."
Winston, who entered the NFL as the No. 1 overall pick in the 2015 draft, has 11 turnovers - 10 interceptions and one fumble - in 3½ games since returning from serving a suspension for violating the league's personal conduct policy.
Fitzpatrick led three fourth-quarter scoring drives to erase an 18-point deficit at Cincinnati, but left Andy Dalton a little more than a minute to lead the Bengals down the field for a game-winning field goal as time expired.
"I don't like switching quarterbacks. That's not in my makeup," Koetter said, noting the way Fitzpatrick played Sunday, as well as while Winston was serving his three-game suspension, made the call easier.
With help from a talented group of playmakers including receivers Mike Evans, DeSean Jackson, Chris Godwin and Adam Humphries, as well as tight ends O.J. Howard and Cameron Brate, Fitzpatrick became the first player in NFL history to throw for more than 400 yards in three consecutive games while helping the Bucs go 2-1 while Winston was suspended.
The 14th-year pro also started Week 4's 48-10 loss at Chicago, but played poorly and was replaced by Winston with the Bucs trailing by 35 points at the half.
"He's done a really good job of putting the ball in the right spot, and we do have explosive players," Koetter said of Fitzpatrick's success. "He has said himself that in all his time playing he's never been on a team that has this many guys who can make plays for him."
Although the Bucs continue to lead the NFL in passing offense and total offense, Winston's grip on the starting job gradually slipped away while turning the ball over seven times against Cleveland and Cincinnati the past two weeks.
"Both guys have had their moments when they've been extremely sharp," Koetter said. "But this really is just about we have to do a better job of protecting the football."
Winston described being benched as "humbling."
"It's not about me, though. It's my fault we were in that situation," Winston added after Sunday's game. "He had to make the decision. Fitz came in and played his tail off. Our offense responded, and we came back and had a chance to win."
Koetter declined to discuss specifics about how he broke the news to Winston that Fitzpatrick will start against the Panthers (5-2).
And with the 2013 Heisman Trophy winner's salary due to increase to $20.9 million if he remains with the Bucs next season, there's lots of speculation about whether Winston has started his last game for Tampa Bay (3-4).
"Jameis is a pro. He will continue to work on his craft. That's all he can do," Koetter said.
"Very rarely is switching quarterbacks forever. ... Jameis will get another chance at some point," the coach added, "and when he does he just needs to do a better job of taking care of the football."
In 49 games, Winston has thrown 54 interceptions and lost 17 fumbles. He's 19-29 as a starter, 1-2 this season.
The fourth-year pro said after Sunday's game that he was not fearful of losing the starter's job.
"I fear nothing but God. I know that I have to fix this problem, and I will fix it," Winston said. "It doesn't come with being scared. You have to look at yourself in the mirror, take a long hard look at yourself, and persevere."
___
More AP NFL: https://apnews.com/tag/NFLfootball and https://twitter.com/AP_NFL