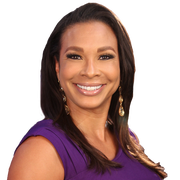 LuAnne Sorrell is an anchor on FOX 35's afternoon and night newscasts.
LuAnne was born and raised in Minnesota where she graduated from the University of Minnesota.
She began her journalism career at KEYC-TV in Mankato, Minnesota where she was a one-man-band, doing a little of everything, including anchoring and weather. However, her hatred of cold weather took her to the desert of Las Vegas, Nevada, where she worked as a reporter with the CBS affiliate, KLAS-TV. After her five-year stint in Las Vegas, LuAnne moved to sunny South Florida where she joined WSVN-TV in Miami. LuAnne spent seven years in Miami reporting and anchoring the weekend morning newscast before coming to Central Florida. She joined FOX 35's Good Day Orlando show as an anchor and reporter. She later began anchoring the station's afternoon and night shows.
LuAnne has two boys that are the loves of her life. She spends her free time hanging out with her kids, watching sports and basking in the sun.
The latest from LuAnne Sorrell
Axiom Space hired 10 people to design and construct the spacesuit of the future.
A tattoo artist is holding a full-day tattoo raffle to help Volusia County families impacted by Hurricane Ian.
Paola Buendia's life was turned upside down several months ago after she suffered a stroke.
Marjorie Daly got Alex, a lab mix when he was seven months old, and he quickly became one of her babies.
Nick DeSantis is known as the "Dogfather of Flagler County." He says he is simply a servant to the lost paws of this world, adding that rescue dogs are the greatest gift that God ever gave us.
Inmates in Florida are getting a second chance they thought they would never get. The "Second Chance Farm" is part of a program at the Lowell Correctional Institution that aims at giving the inmates a new ride and outlook on life.
The Florida Highwaymen are known for their beautiful paintings of landscapes. The group of 26 African American artists got their start in the 1960s in Ft. Pierce during segregation. Because they were Black, they were not allowed to display their paintings in art galleries.
Omari Jones is already making history in the boxing world as the number one amateur boxer in America in the welterweight division and has the championship belt to prove it. Boxing is his passion.
Best friends Matthew Lucus, Maaz Mohiuddin, Jackson Bennett, Michael Crocetti and J.T. Rattigan created the nonprofit called the Play For Keeps Foundation.