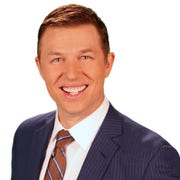 Brooks Garner
Meteorologist
Brooks is no stranger to Florida weather and has been a TV meteorologist for the better part of 20 years. His experience spans from the big cities of the northeast to the high Rockies of Colorado and virtually everywhere in between. 
He's covered many hurricanes while broadcasting in the Carolinas with WIS, in Tampa at WFLA, and in Houston at KHOU. Over the years, he's met one-on-one with some of the top minds in tropical meteorology from a former Director of the National Hurricane Center to leading seasonal forecasters in academia, to become an expert in the field.
Brooks even flew with the NOAA Hurricane Hunters, into Hurricane Sandy as it tracked over the Bahamas, pushing through its eye-wall 5 times in extreme turbulence while carefully monitoring weather conditions. Later, he would forecast for and personally endure what would be verified as the worst rainstorm in the history of the US, as Hurricane Harvey flooded Houston with nearly 60" of rain.
When not following the weather, he raises his young children here in central Florida with his wonderful wife Erica, alongside two crazy Australian shepherds.
The latest from Brooks Garner
You may wonder where the typically iridescent blue skies have gone and why they seem hazy. Giant wildfires spanning thousands of acres in eastern Canada are pushing out huge smoke plumes which are tracking south into the northeastern United States.
Our rainy conditions in Florida this week are due to a stationary front interacting with tropical moisture over our region.
Lightning strikes over the next several afternoons will pack the enhanced potential to ignite wildfires across wooded, unmanaged areas of Central Florida.
Thursday was the latest in a multiday severe weather threat that brought heavy rain and damaging wind to parts of Central Florida. Several tornado warnings were issued late afternoon and into the early hours with reports of downed trees and power outages.
Hurricane Ian was upgraded to a Category 5 hurricane, six months after it struck Southwest Florida with a high storm surge and up to 20 feet of rain for our region. This was announced on Monday by the National Oceanic and Atmospheric Administration's final report on Ian.
Saturday in Orlando will feature big changes to our weather pattern and serve as the gateway for the coldest weather we've seen so far this month.
When the waters off of the northwest coast of South America cool down to unusual levels for a prolonged period, as stronger-than-normal trade winds upwell colder waters at the bottom of the Pacific to the surface, it's nicknamed, "La Niña."