World gets first look at Colorado shooting suspect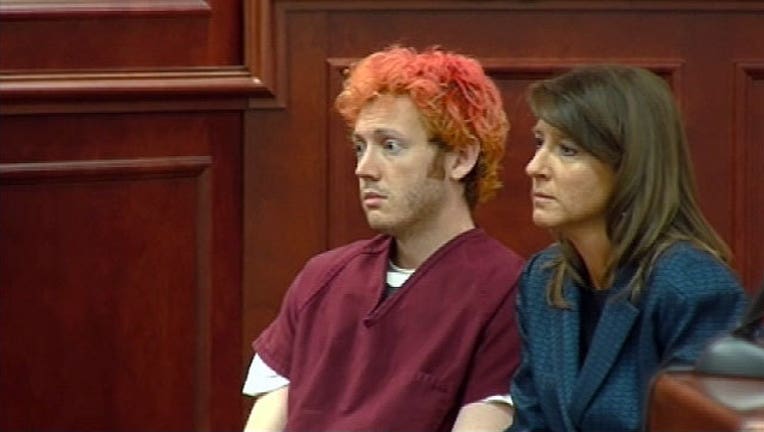 article
The Colorado movie theater shooting suspect showed little emotion as he made his first court appearance handcuffed with reddish orange hair.

Photo Gallery: James Holmes First Appearance
James Holmes was wide-eyed, frowning and unshaven as he sat staring down. At one point he closed his eyes as a judge spoke. 
WATCH: Video of first appearance

He appeared after being accused of the shooting rampage at a Colorado movie theater that killed 12 people and injured 58 others.
 
The judge says he will be formally charged next Monday.
 
Authorities say the 24-year-old former graduate student is refusing to cooperate and it could take months to learn what prompted the horrific attack.
 
District attorney Carol Chambers was set to speak after the hearing.  
 
Investigators say they found a Batman mask inside Holmes' booby-trapped apartment after the attack.
'Suspicious' packages at Colo. university harmless

Hazardous material experts say two suspicious packages found at the University of Colorado's Aurora campus are harmless.
 
Cautious university officials summoned the experts Monday, taking extra precautions after a student was accused of gunning down 12 people at a movie theater and rigging his apartment with explosives.
 
Officials say one package was slipped under the door of a professor, who didn't recognize the sender. The other was in the campus mail system.
 
A robot was used to examine one. Officials haven't said what either contained. They say there is no evidence either was connected to James Holmes, who had enrolled in a Ph.D. program but was withdrawing.
 
Investigators say some of the materials Holmes used in the attack early Friday were delivered to him at the university.
Hospitals release 2 theater shooting survivors

Colorado hospital officials say two more survivors of the mass shooting in an Aurora theater have been released and another is improving.
 
University of Colorado Hospital said Monday that one of its patients from the Friday shooting has been discharged. Nine patients remain there, including five in critical condition.
 
The Medical Center of Aurora discharged another patient. It still has five patients, with two in critical condition.
 
Children's Hospital Colorado has upgraded one adult patient from fair to good condition. Another adult remains in serious condition.
 
The attack by a gunman during a screening of "The Dark Knight Rises" left 12 people dead and injured 58 more. Authorities say most sustained gunshot wounds, while others were injured in the rush to leave the theater.
Colo. suspect's mom learned of shooting from media

A lawyer for the family of James Holmes says his mother had no idea her son was believed to be the gunman who killed a dozen people in a Colorado theater until she was contacted at her San Diego home by a reporter.
 
San Diego attorney Lisa Damiani read a statement to reporters from Holmes' family Monday.
 
It quoted his mother, Arlene Holmes, as saying she first heard of the shooting in Aurora, Colo., hours after it occurred, when a reporter for ABC News called her.
 
Damiani also said Holmes' parents are standing by him because he is their son.
 
At the same time, she says family members want to reiterate what they said shortly after the shooting, that their hearts go out to the victims and their families.