Watch: Woman meets father of heart donor who gave her new life
A woman with a rare congenital heart disease got a chance at a new life thanks to a heart transplant – and she got to thank her donor's father in person.
Emotional video from the Cleveland Clinic shows Katherine Schroeder-Herrmann hugging and thanking the father of her donor, Desiree Burge, on June 24, 2023, almost a year after receiving the heart transplant that changed her life.
"I was able to marry my college sweetheart. It's something I never thought I would live to see," she said. "I'm beyond grateful for the many new things I've been able to experience since my transplant."
READ MORE: New heart transplant method could expand donor hearts by 30%
Schroeder-Herrmann was born with Shone's Complex, which is diagnosed when babies have at least three defects that impact blood flow in the left side of their heart. It accounts for less than 1% of all congenital heart diseases ,according to the Cleveland Clinic.
Due to her condition, Schroeder-Herrmann had her first open-heart surgery at just 1 month old. She had a pacemaker installed shortly after and had more than 20 heart procedures before her 22nd birthday.
Before the transplant, she struggled to walk for more than a few minutes and had trouble keeping a job. Since her surgery, she's completed a 5K and is working as an emergency dispatcher while pursuing her master's degree.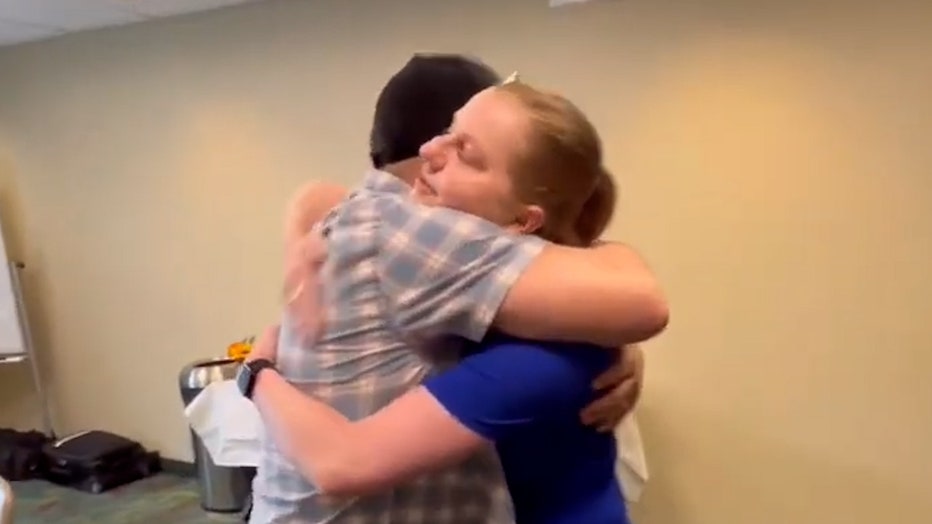 Katherine Schroeder-Herrmann meets the father of her heart donor in emotional video (Cleveland Clinic)
Following her transplant, Schroeder-Herrmann wanted to learn more about her donor. After she expressed interest to her transplant coordinator, she wrote a letter to her donor's family. The family responded saying they were open to meeting her.
Cleveland Clinic worked with the Center for Organ Recovery and Education (CORE) to coordinate the gathering. Schroeder-Herrmann learned her deceased donor was Desiree Burge, who saved five lives by becoming an organ donor.
READ MORE: Watch: Beloved nurse, who worked at hospital for over 33 years, clocks out for last time
"I wanted to learn about my donor because I want to make sure I'm using this heart for a good purpose. It was emotional and overwhelming to hear about the person who's gotten me this far," says Schroeder-Herrmann. "Desiree was feisty and funny – things I clearly am myself. It's a perfect match in a lot of ways, and it was a blessing to be able to meet her family."
Schroeder-Herrmann, who wants to work as a clinical mental health counselor, will continue following up with the Cleveland Clinic to ensure there aren't any signs of heart transplant rejection.
"Desiree's heart lives on, and so does she," says Darrell Conner, Desiree's father. "Even though she's no longer with us on Earth, her decision to be an organ donor means she's still here in a way. She's healing both the recipients of her final gifts, and also us, her own family. We know she made a difference, and we find comfort and pride in that."