Wanted: Two suspects who brutally robbed a Lessburg internet cafe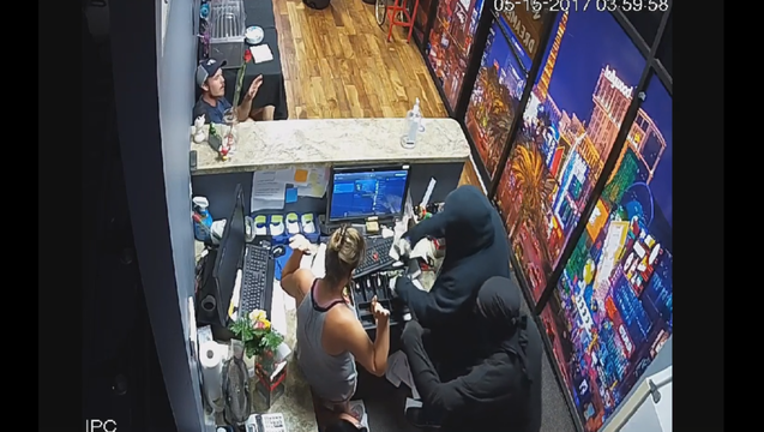 article
LEESBURG, Fla. (WOFL FOX 35) - UPDATE (05/22): Lake County Sheriff's Office reports that they have arrested two suspects in connection with the armed robbery of the Dreamer's Internet Cafe that occurred on May 15th. 
One suspect, Wilfredo Rivera-Diaz, is charged with 2 counts of Robbery with a Firearm and Simple Battery, bond total $100,500.
The other suspect, Emmitt Kirby Jr., was charged with Principal to Robbery with a Firearm, bond total $50,000.
Detectives are still looking for a third suspect described as a white male approximately 5'9" and 160 pounds.
(End of Update).
An internet cafe was brutally robbed early Monday morning, reports an officer in Leesburg, Florida. The investigation is still in progress. A Leesburg officer went on scene to investigate and speak with the victims.
Several suspects entered the cafe and told those present to "stop, sit down, and don't move," states a victim. Even one man that was outside smoking was directed into the business and told to lay on the floor, says another victim.
The suspects then approached the front desk and demanded money. One victim, who was an employee of the cafe, said that one of the two suspects had a gun, which may have been either a 22 MM or 357 magnum. The same victim went on to say that they took money out of the register and her kid's medication, which the suspect threw back at her before leaving. 
The final victim said that she was struck in the face when she refused to give them money. In pain, she stayed on the ground, holding her face, causing her to be unable to see which direction they fled to.
Several victims contributed descriptions of the suspects. One victim stated the first suspect is approximately 200 pounds, semi-heavy set, with gray and white facial hair. He was wearing a gray ski mask and black pants. The second victim was described as six feet tall, weighing about 140 pounds, and held a silver pistol. 
If you have any information on who these subjects may be, please contact 911.