Victims of sexual assault rally in Orlando in response to Kavanaugh hearing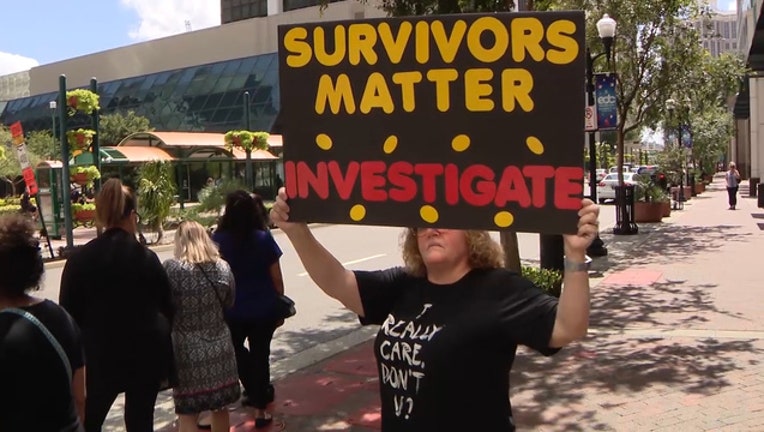 ORLANDO, Fla. (WOFL FOX 35) - Protesters took to the streets of Downtown Orlando Thursday afternoon, bringing attention to victims of sexual assault in light of the U.S. Senate Judiciary Committee hearing for Brett Kavanaugh and a woman who has accused him of sexual assault.
"The first time was when I was five. The last time was when I was 17," a protester named Kathy told The News Station.  
She's now 52 years old, and she's sharing her story with someone other than her therapist for the first time.  
"It's the hearings.  I was made to feel guilty and ashamed. It was my fault and I thought I was the only one.  And, I finally realized its not my fault," said Kathy.
Victim Services of Central Florida is seeing an uptick in victims reporting sexual assaults and seeking help.  Their communications director, Bianca, is crediting all the talk of Dr. Christine Blasey Ford's allegations against Kavanaugh.  
"For example, this week we've had nine acute cases which is someone seeking care within 5 days of being assaulted. And the average week for us would normally be like three cases.  The week is not over yet and nine is a lot," said Kavanaugh.  
She said their 24-hour hotline is really busy right now too.
"On Sunday night one of our advocates, just off the cuff, she mentioned that she answered the phone 11 times in one night, which is kind of a lot for one evening."
She added that the hotline typically receives four calls a night.  That counselor was one of nine on call Sunday.  One of their recent callers found their hotline number on social media.
"She said she called and that she had been holding onto it  practically her entire lifetime and that she called the night before and admitted it and felt like a completely different person," said Bianca.  
This national conversation is giving survivors the courage to speak up and get help.
"You deserve healing and its never too late to start that process," Bianca said.  
She said the "me too movement" has had a big impact on the reporting of sexual assaults and typically anytime a victim in a high profile case gets justice they see an increase in reporting too.  
Victim Services Center of Central Florida's Crisis Helpline is staffed 24 hours a day (407)500-HEAL.