Vibrio vulnificus in Florida: 26 cases of flesh-eating bacteria found in these counties
ORLANDO, Fla. - At least five people have died in Florida from vibrio vulnificus, a "flesh-eating" bacterium known to lurk at beaches, health officials said.
Two of those deaths were reported in Hillsborough County, while the other three were in Polk, Pasco, and Sarasota counties, according to Florida Health.
What Florida counties have confirmed cases of vibrio vulnificus?
The latest data from Florida Health reveals there are 26 confirmed cases of vibrio vulnificus across the state.
Hillsborough: 4
Escambia: 4
Lee: 3
Sarasota: 2
Brevard: 1
Seminole: 1
Alachua: 1
Bay: 1
Broward: 1
Charlotte: 1
Gadsden: 1
Hernando: 1
Leon: 1
Okaloosa: 1
Pasco: 1
Polk: 1
Washington: 1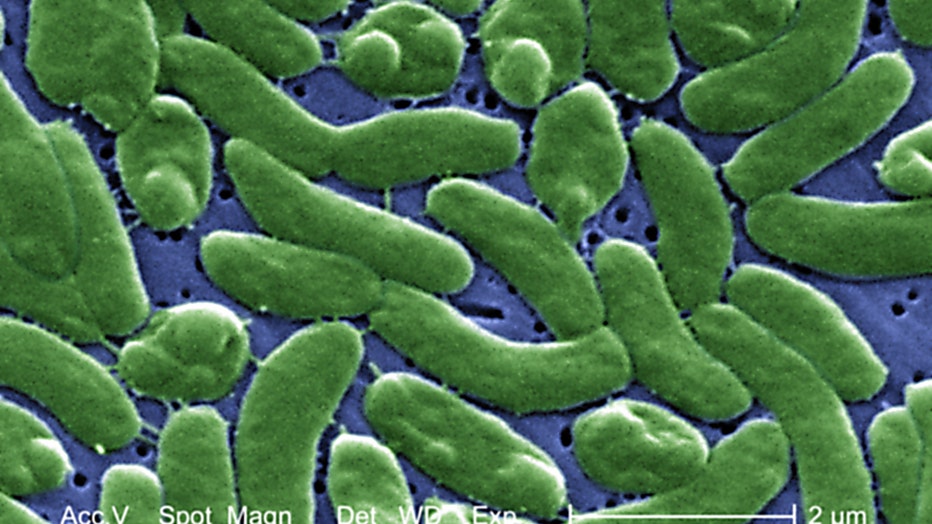 Grouping of Vibrio vulnificus bacteria revealed in the 13184x magnified scanning electron microscopic (SEM) image, 2005. Image courtesy Centers for Disease Control (CDC) / Colorized by James Gathany. (Photo by Smith Collection/Gado/Getty Images)
What is vibrio vulnificus?
Vibrio vulnificus is a naturally occurring bacteria found in warm, brackish seawater.
Although contracting vibrio vulnificus is rare, health officials said it can cause life-threatening infections.
Many people with the infection require intensive care or limb amputations, while 1 in 5 people with the infection die, according to the Centers for Disease Control and Prevention (CDC).
Some vibrio vulnificus infections lead to necrotizing fasciitis, a flesh-eating disease in which the flesh around an open wound dies. 
People can contract vibrio vulnificus if in saltwater with an open wound (fresh cuts or scrapes) including from a recent surgery, piercing or tattoo, officials said.
To reduce your chance of getting a vibrio infection, health officials say to stay out of saltwater if you have a wound. If the wound makes contact with saltwater, officials say to wash the wound thoroughly with soap and water.