Tupperware says 'substantial doubt' about ability to 'continue as a going concern'
Tupperware Brands Corp. recently revealed concerns about its potential future ability to continue running that it described as "substantial."
The company behind the popular food storage containers did so on Friday, saying in a Securities and Exchange Commission (SEC) filing, "The Company has concluded that there is substantial doubt about its ability to continue as a going concern for at least one year from the expected issuance date of its Form 10-K financial statements." 
It pointed to several factors as contributing to its "going concern" warning. Tupperware called the possibility of it breaching the credit agreement it has as "probable" due to "forecasted non-compliance with financial covenants," it needing more time for its annual report, and "cash constraints caused by higher interest costs and timing of re-engineering actions," according to the SEC filing.
The company said it could become non-compliant with its credit agreement's financial provisions as soon as the end of the first quarter, a potential event that could enable its lender to demand repayment. Under its credit agreement, it had $705 million in borrowings at the end of 2022, according to the SEC filing.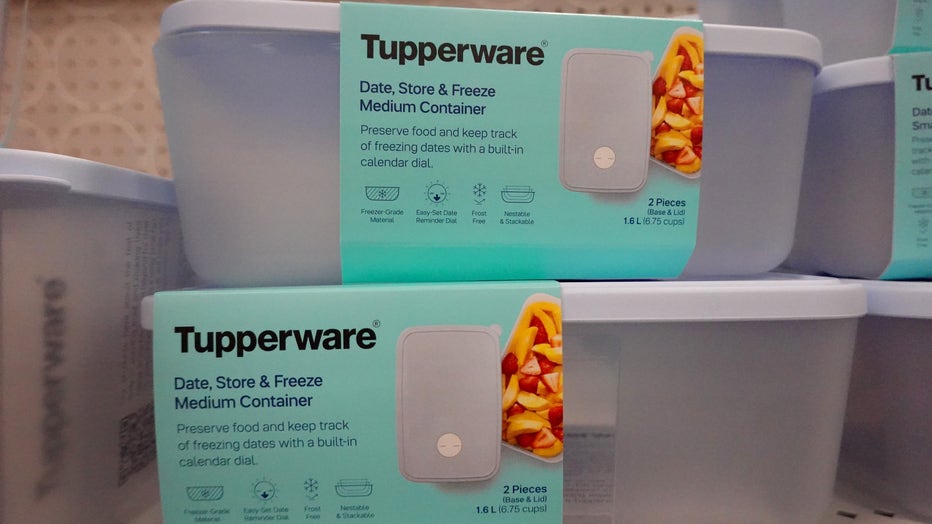 CHICAGO, ILLINOIS - APRIL 10: Tupperware products are offered for sale at a retail store on April 10, 2023 in Chicago, Illinois. Tupperware stock closed down nearly 50 percent today after the company warned that it may go out of business. (Photo by S
Tupperware also cited possible short-term liquidity issues "if it is unable to obtain adequate capital resources or amendments to its credit agreement," according to a press release published Friday.
CEO Miguel Fernandez said Tupperware is "doing everything in its power to mitigate the impacts of recent events" and "taking immediate action to seek additional financing and address our financial position."
The "going concern" issue has prompted Tupperware to bring on financial advisors tasked with helping the company obtain more funds, both the filing and the press release said. 
Monetizing fixed assets, right-sizing and altering its real estate footprint are some of the possible steps it has started looking at in a bid to "preserve or deliver additional liquidity," Tupperware said. In addition to those options, it indicated talks are being held with "potential investors or financing partners."
Meanwhile, on Monday, the company's stock price saw a nearly 49% plunge. In a 12-month span, its value has fallen over 93%.
Tupperware's announcements Friday came not long after it revealed it needed an extension on filing its annual report with the SEC. 
That delay resulted in the New York Stock Exchange sending the company a notice earlier in the month about it not meeting that listing requirement. The notice – which Tupperware called "expected" – also warned it has six months to do so.
The company projected Friday the filing of its annual report would happen "within the next 30 days," adding a caveat that it couldn't guarantee it
FOX Business reached out to Tupperware for comment.