Tropical Storm Arlene weakens to remnant low in Gulf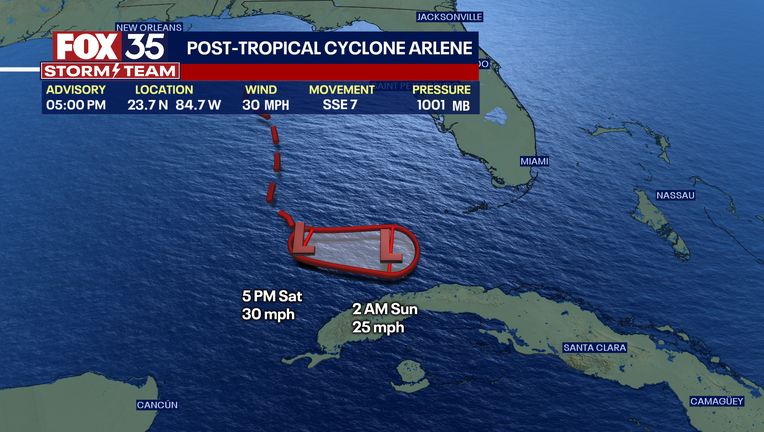 article
Tropical Storm Arlene – the first named storm of the 2023 Atlantic hurricane season – has weakened as expected to a remnant low, the National Hurricane Center said Saturday evening.
As of 5 p.m., the NHC said Arlene is expected to dissipate Sunday in the distant Florida Straits, leading to elevated rain chances across the Keys and coastal waters Sunday night and Saturday morning. 
Dry air and strong wind shear will continue to weaken the storm over the next several hours.
Are you prepared for hurricane season?
The FOX 35 Storm Team takes a look at how many storms we could see this year, how El Niño could impact this year's season, a new tool that could help protect your home, and a look inside Florida International University's "Wall of Wind."
Watch FOX 35's Tracking The Tropics Season Preview below. 
How are tropical storms and hurricanes named?
Tropical storms and hurricanes are given names to help avoid confusion when one or multiple systems are being watched and tracked.
The names themselves are provided by the World Meteorological Association. For storms in the Atlantic, storm names alternate between male and female, and repeat every six years.
However, when a particular storm is particularly devastating or deadly, a name can be retired. For example, the names Fiona and Ian were retired after the 2022 hurricane season.
There are 21 storm names each season. If those are exhausted, there is an alternate list of names that would be used.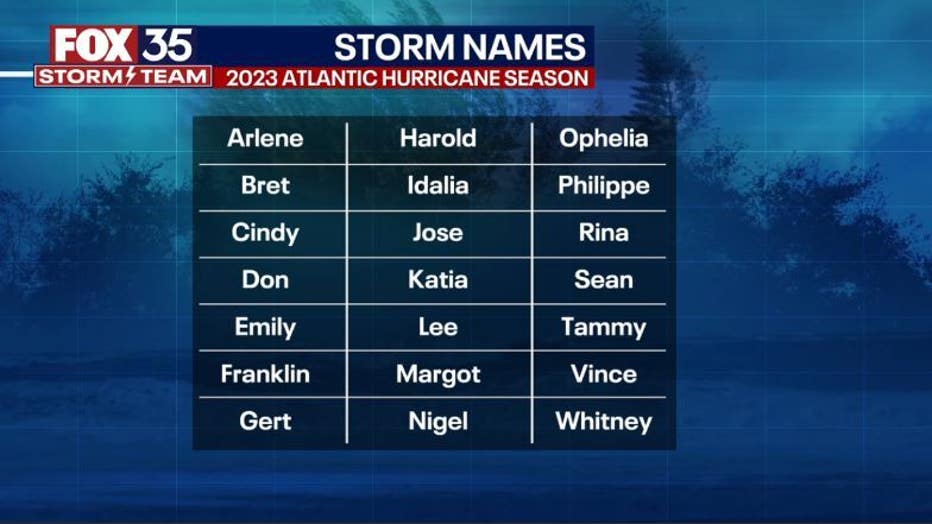 Here are the names for the 2023 Atlantic hurricane season:
Arlene (Pronunciation: ar-LEEN)
Bret (Pronunciation: bret)
Cindy (Pronunciation: SIN-dee)
Don (Pronunciation: dahn)
Emily (Pronunciation: EH-mih-lee)
Franklin (Pronunciation: FRANK-lin)
Gert (Pronunciation: gert)
Harold (Pronunciation: HAIR-uld)
Idalia (Pronunciation: ee-DAL-ya)
Jose (Pronunciation: ho-ZAY)
Katia (Pronunciation: KAH-tyah)
Lee (Pronunciation: lee)
Margot (Pronunciation: MAR-go)
Nigel (Pronunciation: NY-juhl)
Ophelia (Pronunciation: o-FEEL-ya)
Philippe (Pronunciation: fee-LEEP)
Rina (Pronunciation: REE-nuh)
Sean (Pronunciation: shawn)
Tammy (Pronunciation: TAM-ee)
Vince (Pronunciation: vinss)
Whitney (Pronunciation: WHIT-nee)
How are hurricane strengths determined?
Hurricanes are ranked on a five-point scale, known as the Saffir-Simpson Hurricane Wind Scale.
It is solely based on a hurricane's maximum sustained wind speed and a generally expect level of destruction. However, it does not take into account storm surge, rainfall, flooding, or tornado damage.
A tropical storm has maximum sustained winds of 39-73 mph. Once those maximum sustained winds reach at least 74 mph, it has then reached hurricane strength:
Category 1 hurricane: 74-95 mph sustained winds
Category 2 hurricane: 96-110 mph sustained winds
Category 3 hurricane: 111-129 mph sustained winds
Category 4 hurricane: 130-156 mph sustained winds
Category 5 hurricane: 157 mph sustained winds or greater
A "major hurricane" is considered anything between a category 3 or 5.
How to prepare for hurricane season
Make a plan
Know your flood risk, evacuation zone, and evacuation route
Make an emergency kit with at least 7 days worth of food, water, and medication for each family member. You can view Florida's disaster supply check list below.
Stay tuned to emergency alerts. Download the FOX 35 News & FOX 35 Storm Team apps. Watch or stream FOX 35 News for the latest news and weather alerts, storm forecast tracks, and emergency information.
Protect your property
Collect critical documents and records (financial, medical, educational, legal)
Remember: Turn Around, Don't Drown.
Call 911 if in a life-threatening danger or emergency