TIMELINE: This is how Eta will impact Central Florida
ORLANDO, Fla. - Tropical Storm Eta is moving north along the coast and is bringing strong wind along the west coast of Florida and rain across most of the region.  Eta is expected to make landfall near Cedar Key sometime after 4 a.m.
FOX 35 has Thursday a Weather Alert Day, meaning you should take special precautions because the weather will still pose risks of flooding and possible tornadoes as Eta continues to track north.
Eta's path was unpredictable over the last few days, but the latest models show the system traveling across North Florida and exiting the state near Jacksonville.  Eta is then expected to move northeastward into the western Atlantic late Thursday or early Friday, the NHC said. 
TRACK THE TROPICS: Visit the FOX 35 Orlando Hurricane Center for the latest in the tropics, including daily updates, live radar, and severe weather alerts.
Just after 1 a.m., the storm's center was located about 65 miles northwest of Tampa Bay and moving to the north at around 10 mph. This general motion is expected to continue overnight, followed by a turn toward the north-northeast and northeast this morning.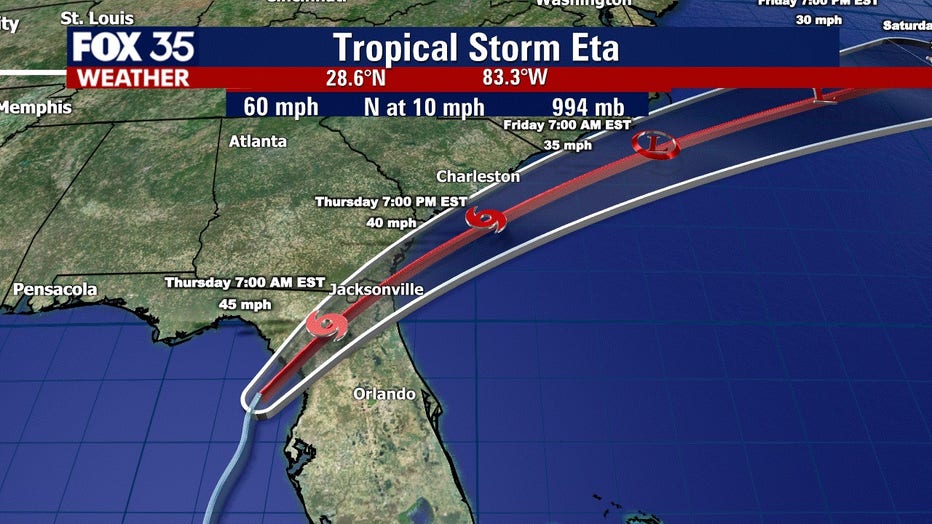 Maximum sustained winds had decreased to near 60 mph (95 km/h) with higher gusts. Slow weakening is expected as Eta approaches the west coast of Florida during the next few hours, followed by more rapid weakening after landfall occur
Alachua, Dixie, Gilchrist, Levy, Marion, Lake, and Sumter counties can expect tropical storm conditions through Thursday morning. 
"In Lake, Sumter, Marion, Alachua counties, it looks like the winds after midnight will increase to around 30 to 50 miles per hour with gusts up to 55 miles per hour and possibly an isolated tornado, and total accumulations of rainfall from two to five inches," Richards said.  "Orange, Volusia, Seminole, and Osceola counties will see an increase of winds from 25 to 35 miles per hour and gusts up to 55 miles per hour. Isolated tornadoes are still a possibility with one to three inches of rain," Richards added.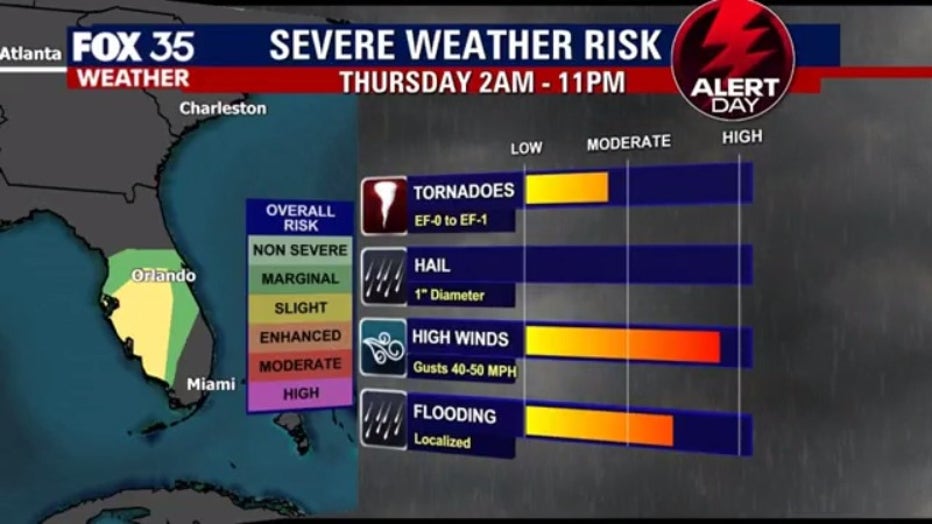 ACTIVE WATCHES AND WARNINGS: 
Storm Surge Warning:
Bonita Beach to Suwanee River Florida, including Tampa Bay and Charlotte Harbor
Tropical Storm Warning:
Englewood to Suwannee River Florida
Flagler/Volusia County Florida line northward to St. Andrews Sound Georgia
Storm Surge Watch:
Steinhatchee River to Suwannee River Florida
Tropical Storm Watch:
North of the Suwannee River to Aucilla River Florida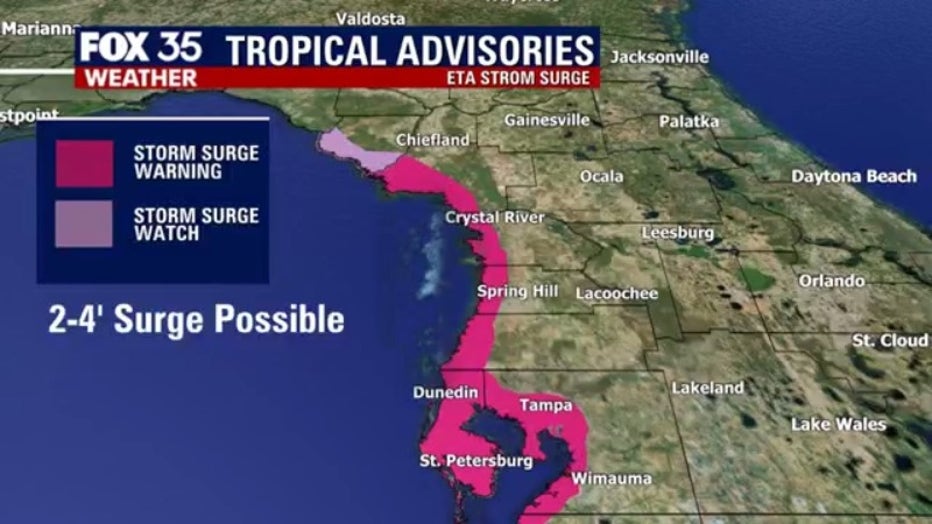 Hurricane season ends November 30th.
Watch FOX 35 News for the latest on hurricane season.