Terrell Owens won't attend Hall of Fame induction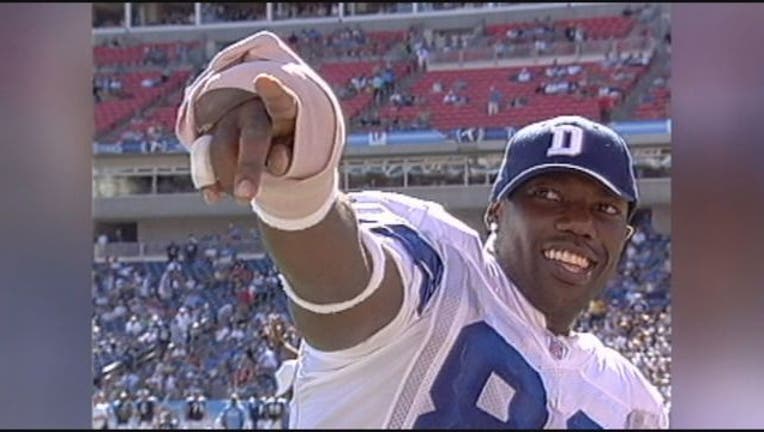 article
Terrell Owens always likes being the center of attention. His decision to skip the induction ceremony for the Pro Football Hall of Fame in August will keep him far from the spotlight.
Owens was voted into the hall in February after being denied in his first two years of eligibility. His announcement Thursday is unprecedented by an enshrinee.
"Hopefully, the story this summer will remain about those that will be there instead of the one that will not," said Howard Balzer of SiriusXM Radio, a 15-year voter for the Hall of Fame.
In a statement released Thursday by his publicist, Owens said: "While I am incredibly appreciative of this opportunity, I have made the decision to publicly decline my invitation to attend the induction ceremony in Canton.
"After visiting Canton earlier this year, I came to the realization that I wish to celebrate what will be one of the most memorable days of my life, elsewhere," Owens added. "At a later date, I will announce where and when I will celebrate my induction."
The hall confirmed that the former All-Pro receiver informed them he would not be on hand Aug. 4 for the enshrinements.
"We are disappointed but will respect Terrell's decision not to participate in the enshrinement," Hall of Fame President & CEO David Baker said.
"While unprecedented, the Pro Football Hall of Fame, the nearly 5,000 volunteers and the entire community are committed to celebrating the excellence of the Class of 2018 that will kick off the NFL's 99th season.
"As we do not want to detract from this great honor being enjoyed by the seven other members of the class of 2018 - Bobby Beathard, Robert Brazile, Brian Dawkins, Jerry Kramer, Ray Lewis, Randy Moss and Brian Urlacher - their family, friends, and fans, the Pro Football Hall of Fame will have no further comment on the decision made by Terrell Owens."
Owens entered the league as a third-round pick by San Francisco in 1996 and developed into a star known for some memorable playoff appearances, including his winning 25-yard TD catch to beat Green Bay in 1999; his 177 yards in a comeback win against the Giants in 2003; and his nine catches for 122 yards in the 2004 Super Bowl against New England just seven weeks after breaking his leg.
He ranks second to Jerry Rice with 15,934 yards receiving and is third on the all-time touchdowns receiving list with 153.
Owens heavily criticized the voting process when he failed to be elected in 2016 and 2017. Among the reasons he fell short were his being considered a divisive teammate and negative presence in the locker room.
Still, he received strong consideration for the hall before getting in last February, along with Moss, another standout receiver.
"I think T.O. actually was disappointed when he got in this year," said Paul Domowitch of the Philadelphia Daily News, who presented Owens' case for induction and has been on the selection committee for 16 years. "I think he was happier when he got snubbed and could play the part of the persecuted victim and moan on every radio talk show that was willing to bring him on about the unfairness of the process.
"Maybe he was worried that he would become forgotten after the induction ceremony. This way, he gets his gold jacket, but still will be remembered as the guy who told the hall to go stuff it."
Another Owens supporter in the hall voting, Jarrett Bell of USA Today, has been on the selection committee for 21 years and was "at a loss to understand" why Owens would decline to attend the inductions.
But Bell, like Baker, stressed Owens' absence would not affect the ceremony much.
"Think of the other members of the class of 2018," Bell said. "They deserve their upcoming honor and the celebration. There's no stain on them because someone doesn't want to show up.
"Think of the players who gave their all to the sport, including many worthy of Hall of Fame consideration, who will never be enshrined. Think of the family members of former players, coaches and officials - many of whom have passed away - pushing for their loved ones to receive special recognition for career accomplishments. Then think of Terrell Owens. In that order."
As perhaps an indicator he might skip the August ceremony, Owens didn't attend the announcement that he'd been selected to the hall.
"All these years Owens wanted to go to the hall and was quite vocal about it," said Rick Gosselin, a hall voter for 23 years. "Now he doesn't want to go to the hall? It's kind of puzzling. ... I wonder what all of his new teammates wearing those gold jackets think."
Owens did thank the 49ers, Eagles, Cowboys, Bills and Bengals in his statement and called becoming a Hall of Famer "an honor to be part of such elite company. This honor is something that I will cherish forever."
He just won't be on hand to see his bust unveiled in August.
"But don't think of even considering it a sad day for the Hall of Fame," Bell said. "The hall will always be bigger than one person."
___
For more NFL coverage: http://www.pro32.ap.org and http://www.twitter.com/AP_NFL