Taylor Swift invited to be mayor of Tampa Thursday, April 13
TAMPA, Fla. - Swifties know Taylor's lucky number is 13, so it's only appropriate for Jane Castor to give up her seat and make Taylor Swift the mayor of Tampa on April 13, the same day Swift kicks off her 3-day "Eras Tour" concert stint at Raymond James Stadium.
Tampa Mayor Jane Castor extended the invite to Swift three days before Raymond James Stadium is transformed into 'Taylor Nation.'
Mayor Castor's office said it's been working on plans to welcome Swift. 
2015: Fans flock to Tampa for Taylor Swift concert
Other cities have extended similar gestures, including street signs, lighted archways and even Glendale, Arizona temporarily changing its name to Swift City.
In a statement, Mayor Castor's office said, "here in Tampa we've got a reputation to uphold... and we want to go BIGGER."
As part of the proposal to name Taylor Swift the mayor of Tampa on April 13, the city said it present Swift a key to the city, light Old City Hall, the Tampa Riverwalk, and downtown bridges in "Taylor Swift Red," and post videos across multiple social media platforms.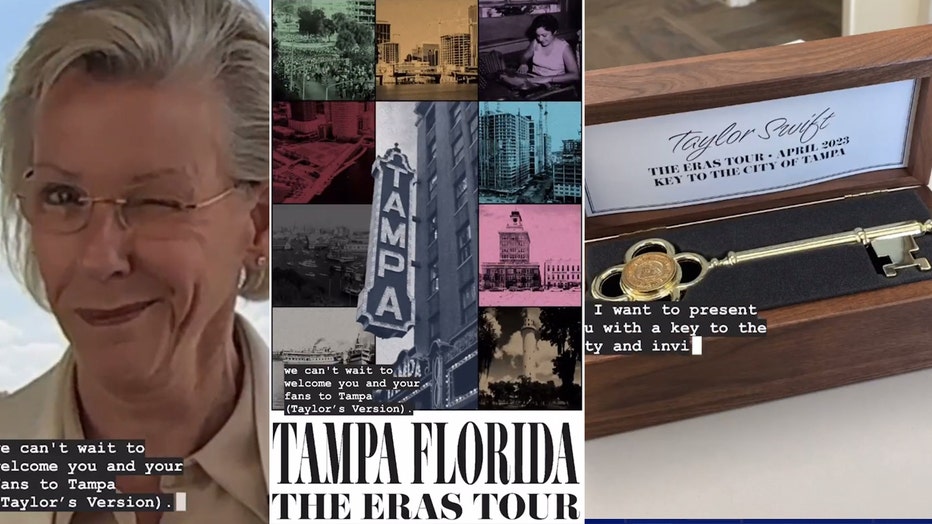 Mayor Castor appears in a video by the city of Tampa inviting Taylor Swift to be mayor April 13
The city asked Swift fans to share its video and tag the star in hopes of grabbing her attention before Thursday.
As of Monday, the city had already changed its name on Twitter to "City of Tampa (Taylor's Version)."
Taylor's 2023 stop in Tampa with her "Eras Tour" isn't Swift's first trip to the Bay Area.
After a nearly decade-long career in country music, swift released her first pop-only album "1989" in 2014 and launched a stadium tour of the same name with a stop in Tampa in 2015. 
2015: Cancer survivor meets her hero, Taylor Swift
Swift also brought her "Reputation" tour through Tampa in 2017.
With three nights of shows planned in Tampa for the "Eras Tour," this will be Taylor Swift's longest stay in the Bay Area, yet.