Suspected weapon thief causes I-4 shutdown, now re-opened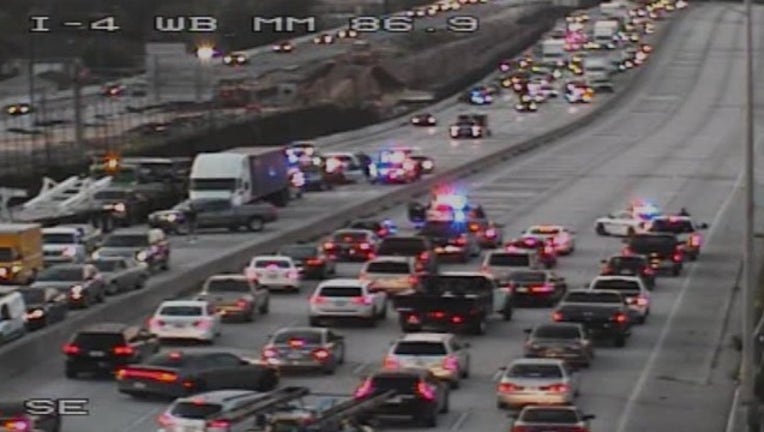 WINTER PARK, Fla. (FOX 35 WOFL) - All lanes in both directions of Interstate 4 (I-4) at Fairbanks Avenue were blocked this Tuesday morning, as an incident involving an armed burglary suspect occured. While all lanes are now re-opened, previously, both directions of the highway were shutdown.
The Orange County Sheriff's Office says that an armed burglary took place in the county. Deputies were able to identify one, perhaps two, vehicles involved. They located and followed the vehicles, which traveled on I-4 in an effort escape. 
Deputies say that they were able to get the vehicle(s) stopped at I-4 and Lee Road, therefore shutting down the interstate in both directions. 
See what the scene looked like below. 
The Orange County Sheriff's Office says that the burglary suspect was from a 2015 Orlando Police Department case where seven young men broke into the Central Florida Fairgrounds and stole weapons from the Florida Gun Show. 
They say that in 2015, there was a burglary at the Central Florida Fairgrounds where several shirtless suspects could be seen stealing guns from tables. There was an arrest warrant for one suspect, 18-year-old Isaiah Montgomery. 
In the last 24 to 48 hours, the sheriffs office says that they were able to determine Montgomery's whereabouts. They saw an opportunity to apprehend him and other subjects on I-4, so deputies performed a felony stop and shut down traffic on I-4 for about one and a half hours. 
15 people were reportedly detained and among them was Montgomery, who was taken into custody and arrested on the warrant. Drugs and a firearm were also recovered during the stop. 
There are no other charges pending at this time. There also were no injuries, as the individuals complied without incident.