SunTrust Orlando Headquarters Moving to Church Street Station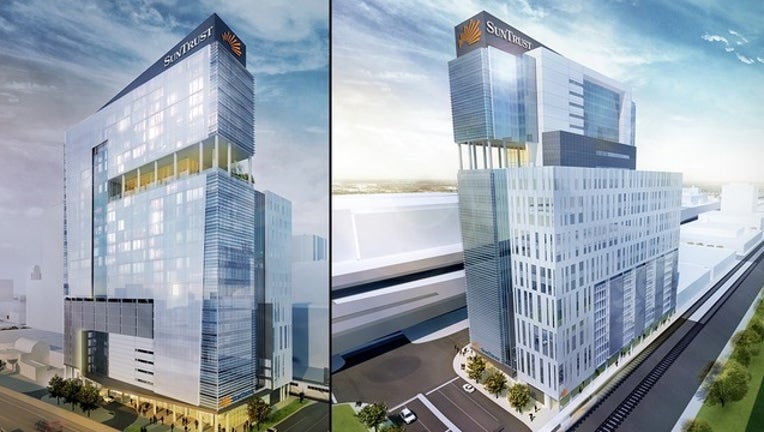 article
ORLANDO, Fla. (FOX 35 WOFL) - SunTrust Banks has announced that they are moving their Orlando, Florida headquarters building to SunTust Plaza at Church Street Station. The company will occupy the top three floors of the commercial office space, comprising nearly 90,000 square feet, and will have a retain branch location on the ground floor.
"We are very excited to be the signature tenant in this innovative development. SunTrust Plaza at Church Street Station combines cutting-edge office space with a great balance of amenities for our clients and teammates, including a hotel and multiple transportation options. Further, the new office environment will match the forward thinking approach we take to serving our clients, while allowing us to remain centrally located in the city," said Scott Cathcart, Florida Division president for SunTrust. 
SunTrust Plaza, developed by Lincoln Property Company, wil be a LEED gold-designed building. It will stand 28 stories tall and will house an AC Hotel on the top floors, along with approximately 200,000 square feet of office space, 10,000 square feet of meeting space, and 7,500 square feet of retail space. The building will also have a fully integrated SunRail station, making it an ideal mixed-use development. 
"We are thrilled to have SunTrust as our signature tenant.  SunTrust has been a stalwart corporate presence in downtown for many years. Their tenancy in our building makes the building that much more special," said Scott Stahley of Lincoln Property Company.
"SunTrust Plaza at Church Street Station will bring an exciting new space that expands the availability of the live, work and play lifestyle to downtown Orlando. It's the perfect fit for SunTrust who has demonstrated a long-term commitment to our community and shown exceptional dedication to building our local economy," said Tim Giuliani, president and CEO of the Orlando Economic Partnership.
All SunTrust teammates who currently work at the company's existing SunTrust Plaza in downtown Orlando will move to the new building. The project is anticipated to be ready for move-in by late summer 2019.