Will a subtropical system develop off Florida's coast?
ORLANDO, Fla. - The National Hurricane Center is watching an area of non-tropical low pressure that is forecast to form off the east coast of Florida and the southeastern United States later this week. 
This system could acquire some subtropical characteristics this weekend if it remains offshore while it moves slowly northward or northwestward. 
How will it impact Florida?
Central Florida will likely see impacts along the coastline later this week. Those impacts could include a rise in rain chances, beach erosion, coastal flooding, dangerous rip currents, and beach surf up to 8 feet, and windy conditions. 
As of Tuesday morning, the area has a 30% chance of formation through the next seven days.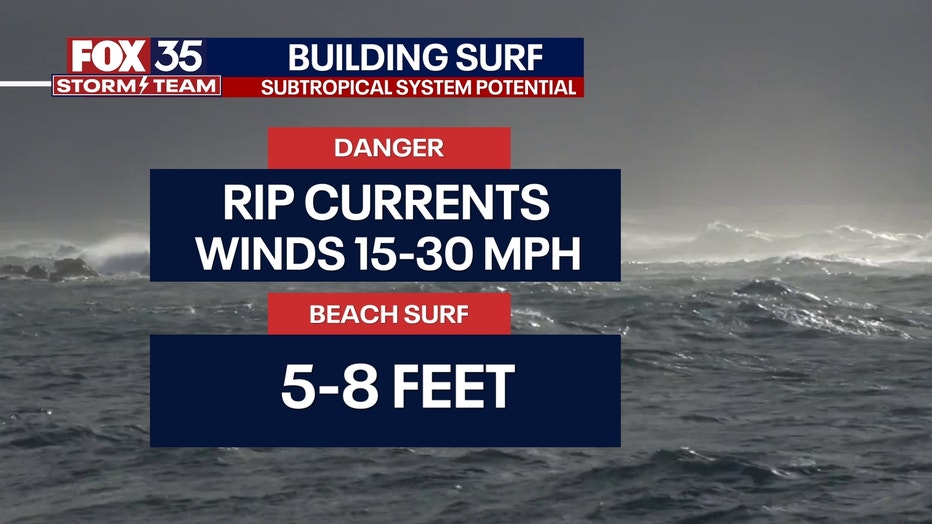 Hurricane Nigel expected to strengthen 
Hurricane Nigel strengthened into a Category 2 storm on Tuesday, the NHC said. The hurricane will likely remain out at sea with no impact on land. 
Elsewhere, another tropical wave off the west coast of Africa has a 70% of development over the next seven days. If this becomes a named storm, it will be Ophelia.
Hurricane season runs through Nov. 30.