Storm-filled weekend to dampen 4th of July in Central Florida
ORLANDO, Fla. - If you've got outdoor plans for the 4th of July holiday weekend, keep an eye on the skies. 
Central Florida will be dodging storms over the next few days, which could put a hold on any outdoor BBQ's or beach time you were looking forward to. 
Tonight's forecast low: 76 degrees
Tomorrow's forecast high: 91 degrees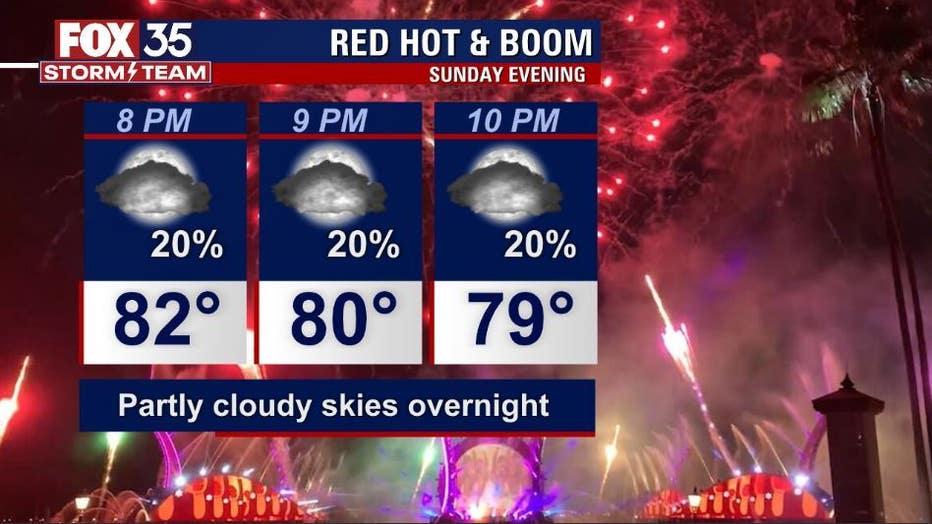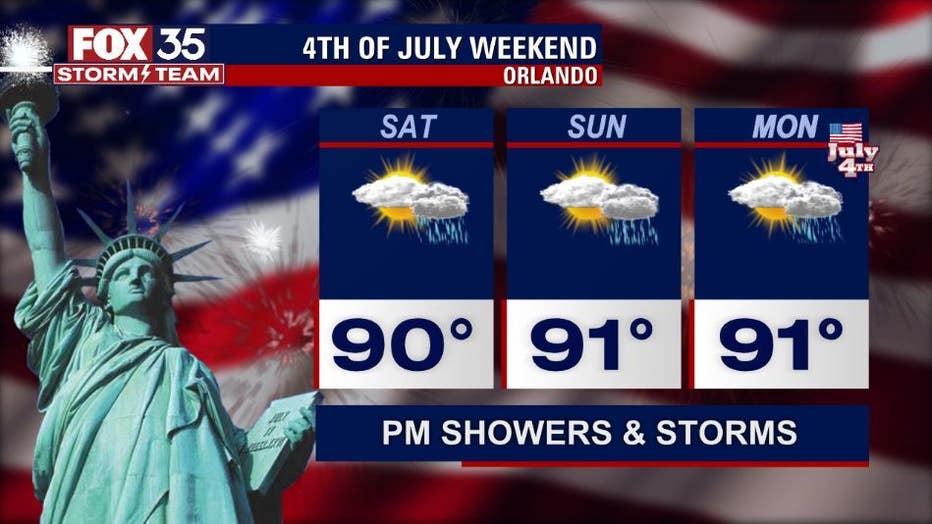 MAIN WEATHER CONCERNS: 
Showers and storms will increase through the late afternoon with the influence of the afternoon east coast sea breeze. These showers will be scattered along the coast and just inland east of I-4 through 6pm. The primary threats of these storms will be lightning, gusty winds, and heavy rainfall. The shower activity will slow down by 6pm and clear out completely before 10 pm.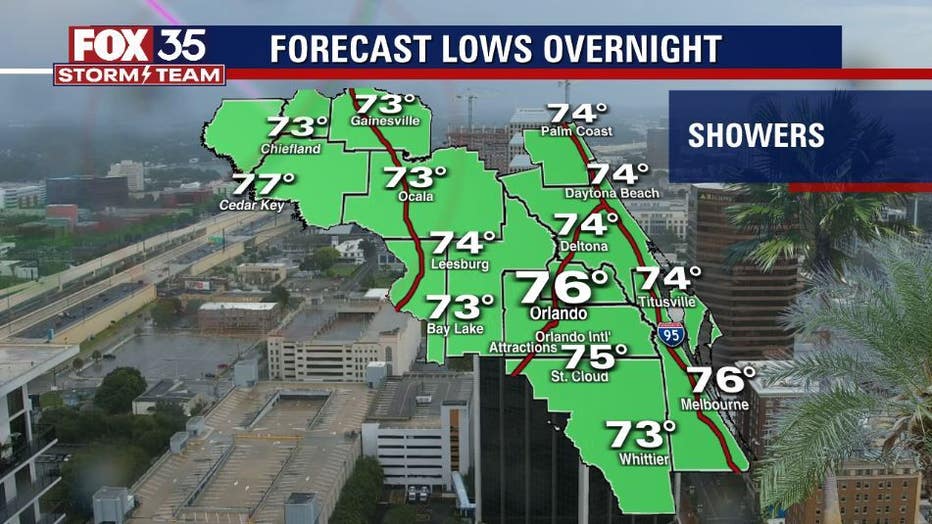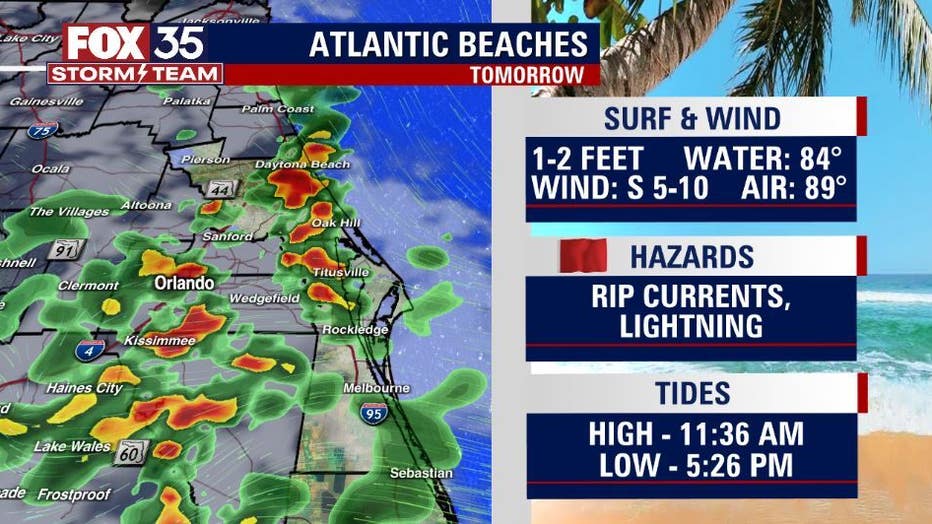 WHAT IS THE WEATHER FORECAST FOR WALT DISNEY WORLD, UNIVERSAL, AND SEAWORLD?
Sunday will be another stormy day at the parks. Arrive early to get some time in the parks rain free. Much like Saturday, the rain will come in the afternoon.  Temperatures will tap out at 91 degrees. A typical summer day here in Central Florida. The rain will clear out just in time for the nightly fireworks!
RELATED: Tropical Storm Colin forms off the coast of South Carolina
WHAT IS THE WEATHER FORECAST FOR THE BEACHES IN CENTRAL FLORIDA?
For the best beach day try to get to the beaches early. Temperatures max out in the upper 80s.  There will be a slight chance of a stray shower in the morning. After 3 pm, shower chances increase and so do the thunderstorm chances. The surf will be around 2 ft and there will be a moderate risk for rip currents. If swimming, make sure to swim close to a lifeguard stand.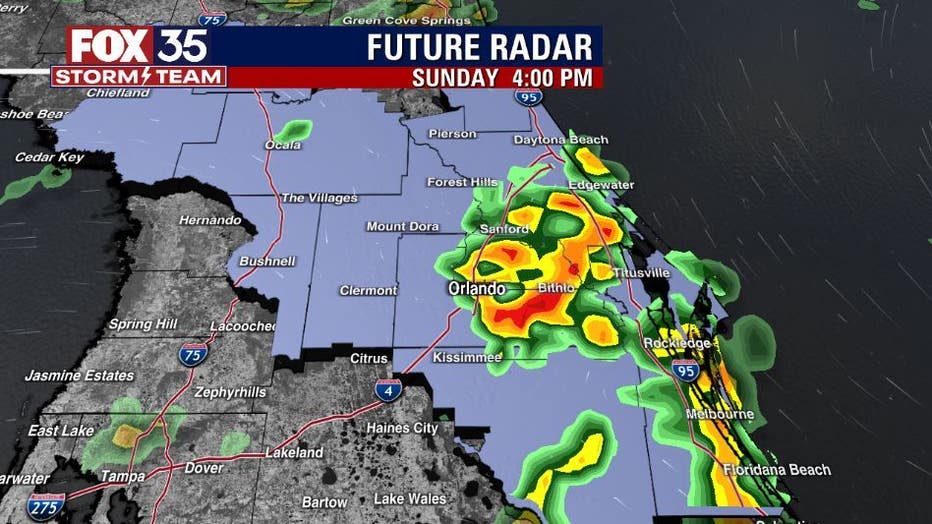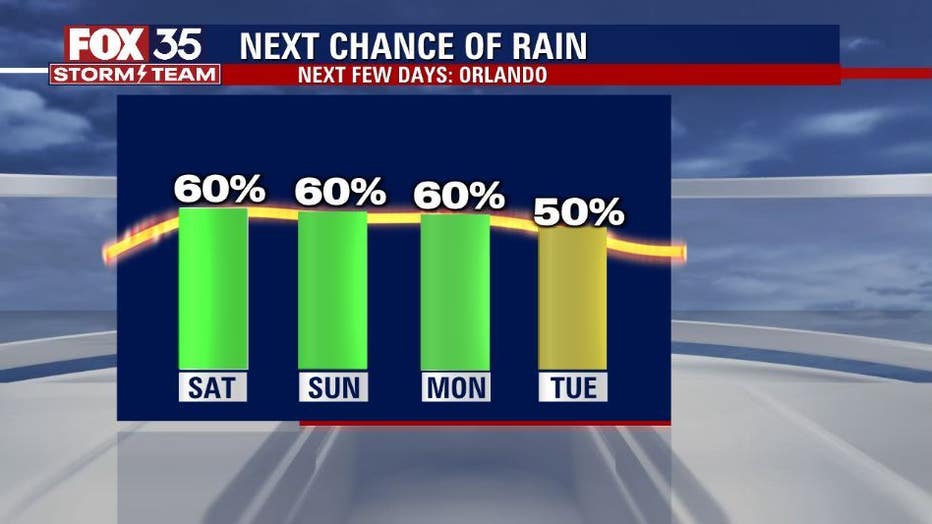 LOOKING AHEAD: 
A typical summer pattern for the rest of the week, featuring temperatures in the low 90s and afternoon showers and storms each day. Tomorrow is the 25th annual RED, HOT, & BOOM event in Altamonte Springs. If you are headed there make sure to drink plenty of water. Given the humidity, the temperature on Sunday will feel like the upper 90s. Rain chances increase in the afternoon but will clear out just in time for the fireworks show at 9:30. Make sure you are staying weather aware! Download the FOX 35 Storm Team app to take the radar on the go!