50-foot sinkhole forms on Polk County property months after previous 75-foot sinkhole: Officials
LAKELAND, Fla. - Nearly three months after a 75-foot sinkhole opened up off of Scott Lake Road, Polk County crews were monitoring another sinkhole that opened up in the same area. 
County officials said the recently opened sinkhole is 50-feet wide and 12-feet deep on private property. 
Polk County Fire Rescue said the north and southbound lanes on Scott Lake Road were closed, but have since reopened. They said the sinkhole is not currently posing a threat to the county roadway or homes. 
RELATED:  75-foot sinkhole forms on private property in Polk County, roads barricaded until further notice: Officials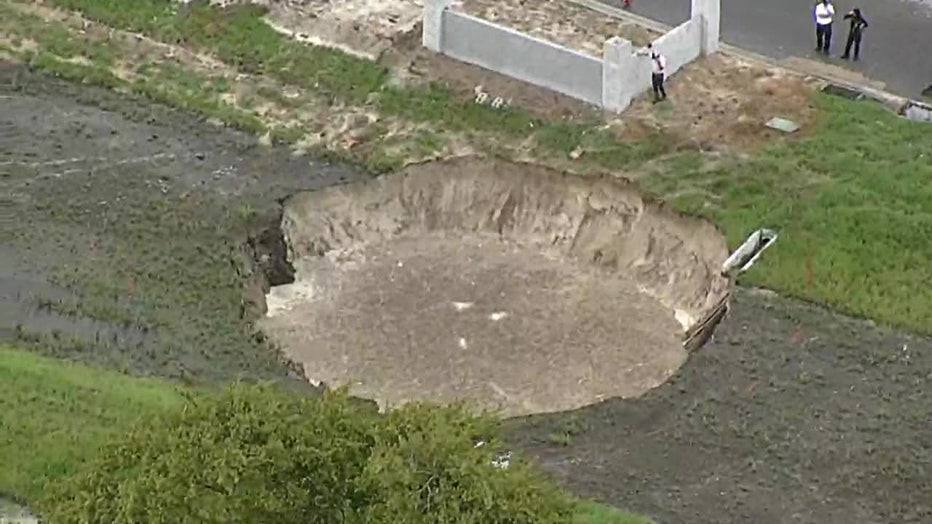 A sinkhole in Lakeland reopened off of Scott Lake Road on Friday, according to officials.
Back in June, authorities were monitoring the 75-foot sinkhole that opened up off of Scott Lake Road, just south of Fitzgerald Road in southern Lakeland. 
At the time, officials believed the previous sinkhole could be connected to a well that was drilled at the site.