Shots fired at Dallas protest over fatal police shootings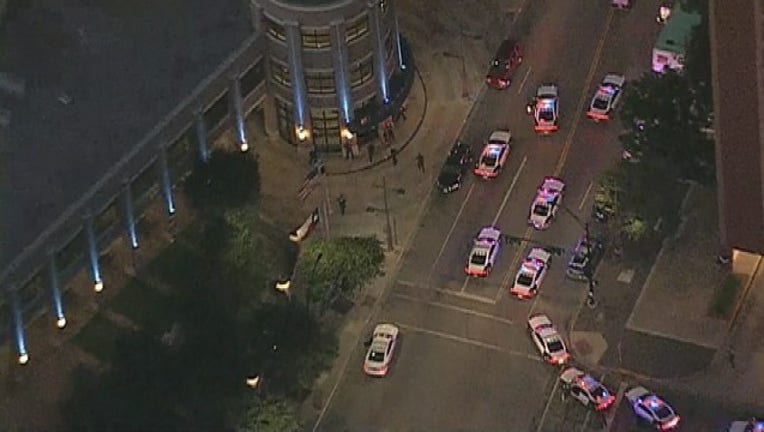 article
DALLAS (AP) - Multiple media outlets report that shots were fired Thursday night during a Dallas protest over two recent fatal police shootings of black men.

The gunfire broke out around 8:45 p.m. Thursday. Live TV video showed protesters marching along a street in downtown, about half a mile from City Hall, when the shots erupted and the crowd scattered, seeking cover. There was no immediate word on whether anyone had been injured.

Scores of police and security officers were on hand. Police and others hunched behind cars outside a parking garage. Officers with guns drawn were running near and into the parking garage as police searched for the shooter.

A police dispatcher reached by The Associated Press had no immediate comment. A spokesman for the mayor said he no information he could share. Firefighters and police at the scene were keeping people away; dozens of police cars with their lights lit up were there.

"Everyone just started running," Devante Odom, 21, told The Dallas Morning News. "We lost touch with two of our friends just trying to get out of there."

Carlos Harris, who lives downtown told the newspaper that the shooters "were strategic. It was tap tap pause. Tap tap pause."

On Wednesday, a Minnesota officer fatally shot Philando Castile while he was in a car with a woman and a child in a St. Paul suburb. The aftermath of the shooting was purportedly livestreamed in a widely shared Facebook video.

A day earlier, Alton Sterling was shot in Louisiana after being pinned to the pavement by two white officers. That, too, was captured on a cellphone video.

The gunshots in Dallas came amid protests nationwide over the recent police shootings.

In midtown Manhattan, protesters first gathered in Union Square Park where they chanted "The people united, never be divided!" and "What do we want? Justice. When do we want it? Now!"

A group of protesters then left the park and began marching up Fifth Avenue blocking traffic during the height of rush hour as police scrambled to keep up. Another group headed through Herald Square and Times Square where several arrests were reported.

Michael Houston, a 20-year-old Brooklyn student, said anger and lack of action brought him to the protest.

"It's the definition of insanity," Houston said. "How can we expect anything to be different when nothing changes."

Lawrence Amsterdam, 35, another student from Brooklyn, decried what he called the police injustice.

"It's supposed to be innocent until proven guilty. But the way I see it, it's murder first and ask questions later," Amsterdam said.