Storms with heavy rain, lightning to kick off weekend of wet weather in Central Florida
ORLANDO, Fla. - Keep the umbrella nearby this weekend because it will be needed.
A surge of tropical moisture is pushing in from the south and will be increasing our rain chances over the weekend. We've declared Friday and Saturday as FOX 35 Impact Days.
Here is the Science: Down in the Caribbean, there is a westward-moving tropical wave that has been dumping rain across Central America. Simultaneously, there is a broad area of low pressure – also known as the Central American Gyre -- that is helping to move that moisture into Central Florida. The Central American Gyre is typical for late spring/early fall and is known to produce torrential rainfall, rough surf, and tropical cyclones, though that's not the reason for the rain expected this weekend.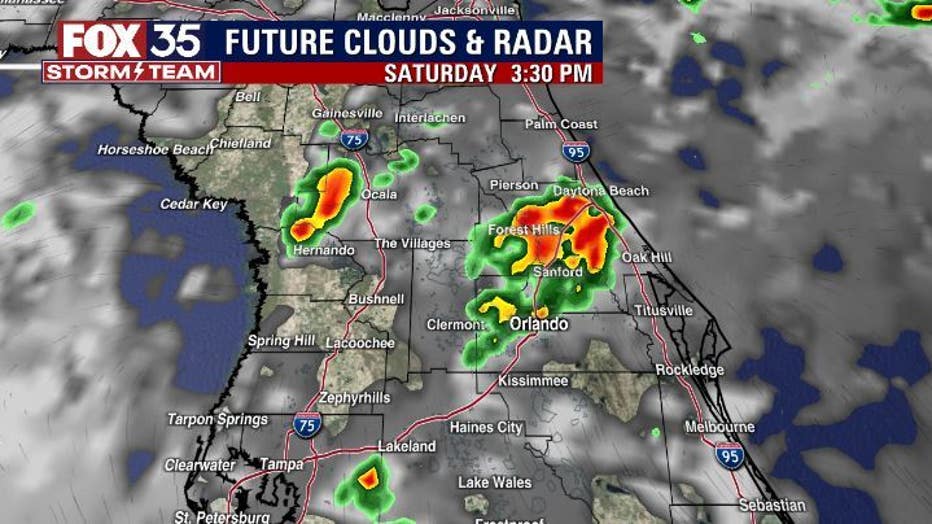 WHAT IS THE WEATHER FORECAST FOR TODAY AROUND ORLANDO?
Today's forecasted high: 90 degrees
Tomorrow's forecast high: 70 degrees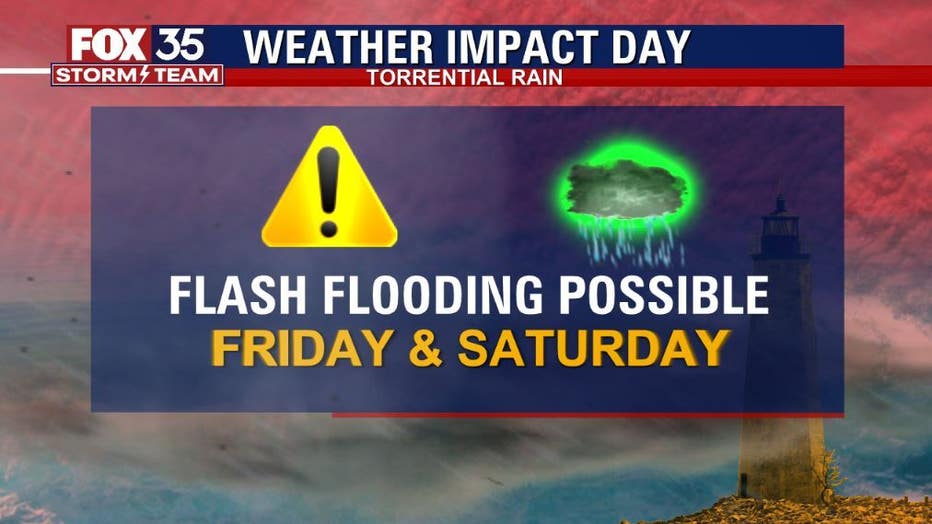 MAIN WEATHER CONCERNS:
Both Friday and Saturday have an 80% chance of rainfall. While this is fueled by tropical moisture, which is moisture coming from the Caribbean (not to be confused with having tropical characteristics). The increased moisture will produce downpours and increased thunderstorm chances.
Strong to severe thunderstorms are possible Friday afternoon and evening with the primary threats being wind gusts up to 60mph in stronger storms, hail, and lightning. On Friday alone, areas across Central Florida could see 1 to 2 inches of rain, with more in other spots. These storms can lead to flooding of roads and low-lying areas and weather delays at the airport.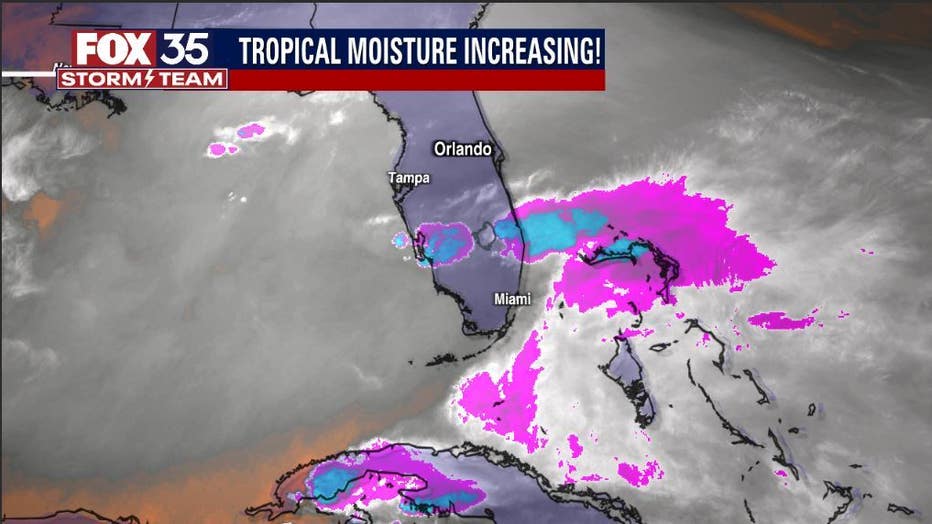 DOWNLOAD: FOX 35 NEWS APP | FOX 35 STORM TEAM WEATHER APP
It will not be the entire weekend, but when the rain comes it will pour down. Saturday, the best chances of rain come in the afternoon and evening. While on Sunday the rain slacks with a 50 % chance of rain.
WHAT IS THE WEATHER FORECAST FOR WALT DISNEY WORLD, UNIVERSAL, AND SEAWORLD?
Hot and humid before rain chances jump up after 1-2 p.m. Heavy rainfall and lightning will be the norm for the afternoon and evening. Visitors at the theme parks are reminded that when thunder roars to head indoors. Rain could become quite heavy here as well.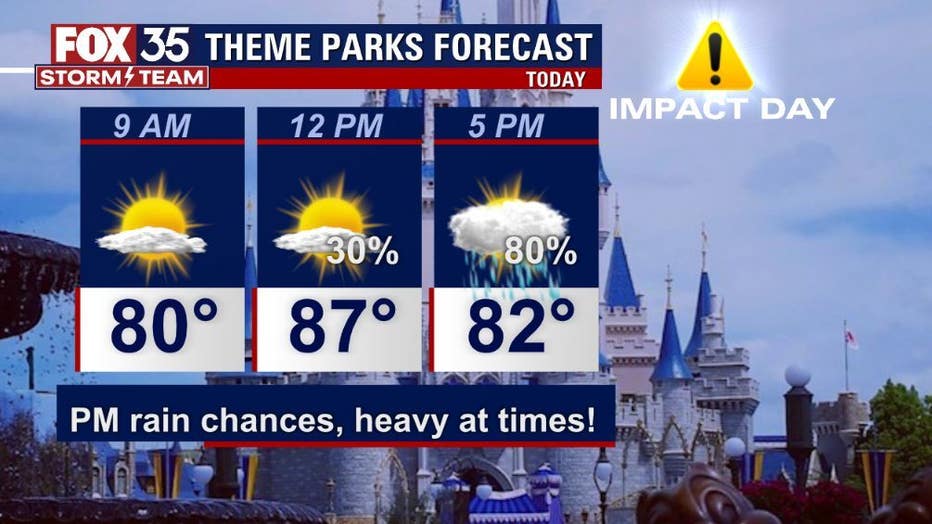 WHAT IS THE WEATHER FORECAST FOR THE BEACHES IN CENTRAL FLORIDA?
Beach weather looks ok before the afternoon hours. Clouds will be increasing and rain chances rising for the PM hours. Heavy rain and cloud to ground lightning will be the main threats during this time.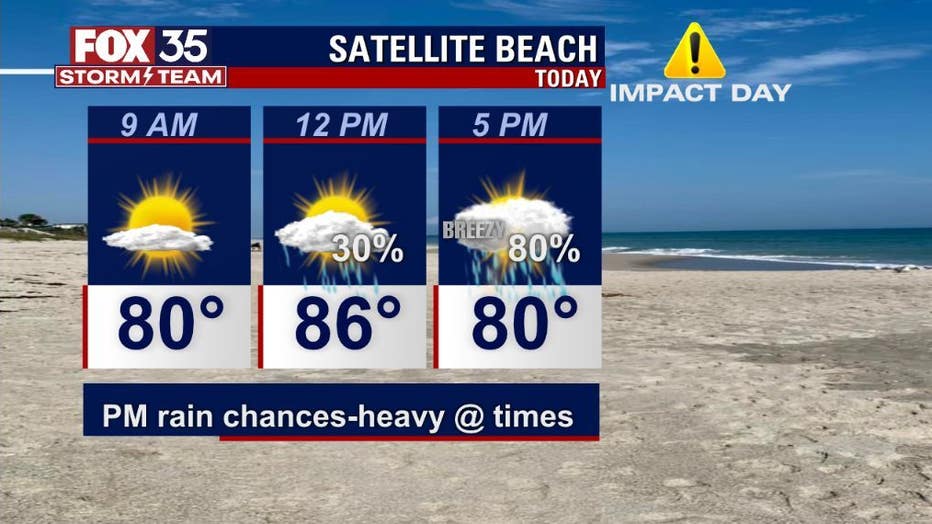 LOOKING AHEAD: 
Heavy rain is in the cards especially over the next couple of days. Chances ease a bit Sunday and for the beginning of next week. Highs remain warm and steamy, around 90 degrees and rain chances day to day around the 40% range. These are all clear signs that the Central Florida rainy season is phasing in!