Schaumburg Boomers offer Tim Tebow baseball contract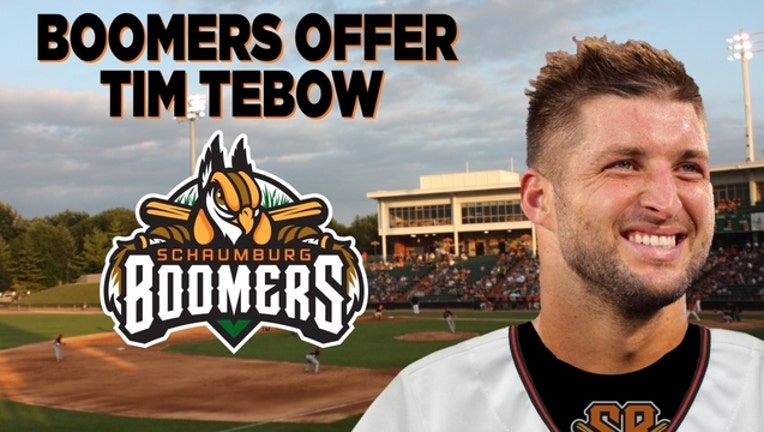 article
CHICAGO (FOX 32 News) - With professional football not working out, Tim Tebow is going to give baseball a try and the Schaumburg Boomers are looking to give him his first big break.
The Boomers announced Tuesday that they have offered the 2007 Heisman Trophy winner and former NFL first-round draft pick a contract to play as an outfielder for the franchise. Details about the contract have not been released.
"We're looking for an athletic outfielder who can bring some leadership and competitiveness into the clubhouse," said Boomers Manager Jamie Bennett. "Tebow brings all of those characteristics and then some. I think he'd be a great fit here in Schaumburg."
Tebow plans to hold a workout for Major League Baseball teams this month. He last played organized baseball in high school.
ESPN first reported the news.
"I understand that Tim's ultimate goal is to make it to the major leagues, just like every other guy on our team," said Boomers General Manager Pete Laven. "With our proximity to Chicago and the fact that major league scouts come through our park on a regular basis. I think this is the perfect situation for Tim to showcase his skills in a game situation."
Agent Brodie Van Wagenen, the co-head of CAA Baseball, said in a statement that the workout is not a publicity stunt.
"His work ethic is unprecedented, and his passion for the game is infectious. He knows the challenges that lie ahead of him given his age and experience, but he is determined to achieve his goal of playing in the Major Leagues," Van Wagenen said in a statement.
Tebow has been training in Scottsdale, Arizona, with former major league catcher Chad Moeller.
Tebow won the Heisman and two national championships with the University of Florida and was drafted in the first round by the Denver Broncos in in 2010. He has not played in the NFL since 2012 with the New York Jets. He went to training camp with the New England Patriots in 2013 and the Philadelphia Eagles in 2015 but was cut before the season each time.
The Boomers are currently in the thick of the Frontier League playoff race just six and a half games out of the division lead and six games out of the wild card spot.
The Associated Press contributed to this report.